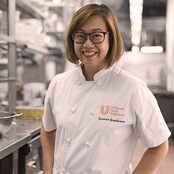 Right now, the foodservice industry is suffering. We've had to down knives and hang up our aprons in the fight against COVID-19. It's understandable to feel low and worried about business.
Restaurants are struggling to sustain operations, with most relying on food delivery as their only source of revenue. Others have sadly shut for now, hoping that this will be over soon, or a government scheme may assist in keeping their business afloat. Wherever your struggles, it's important to stay positive and plan for the future.
Chef Joanne Limoanco-Gendrano, Executive Chef - Middle East, Pakistan and Sri Lanka for Unilever Food Solutions, took a look at how to prepare in the coming months. What can we do as an industry to prepare ourselves?
Let's talk restaurant survival
Food services have, by nature, always been agile. We constantly adjust to seasonal availability, crazy food trends and challenging diners. The hospitality industry's response to COVID-19 has been no different now.
"What was admirable was how restaurants quickly adapted their businesses to deliveries and offering value in a short period of time. We saw outlets automatically offering set menus for families, and quickly communicating their hygiene processes to guarantee safety to diners. All of this while adding their own personal touches," explains Chef Joanne.
"We have seen great initiatives from companies and chefs from around the world encouraging their diners to support local businesses. Here, locally, UFS has in turn implemented the #YallahLetsOrder Together every Thursday campaign."
The aim of the campaign is to encourage consumers to help out by: ordering in every Thursday, sharing pictures of their meals on social media, and repeating every Thursday. Your restaurant can also join the movement. UFS is offering free downloadable assets you can use for your social media platforms to encourage your diners. 
Consider restaurant food safety
Hygiene is definitely going to become a top priority once businesses are operating again, says Chef Joanne. Diners are much more likely to get sick from poor food handling, rather than food itself. It'll be important to refresh your knowledge on food hygiene protocol, implement stringent measures where necessary and consistently monitor any critical control points.

"It's almost certain there will be new regulations in food safety legislation after COVID-19, It's best to use this time to adjust operations to these requirements." Sign up or login here to watch the "Food Safety" module on UFS Academy.
Outside of the restaurant world, sanitation levels have understandably become an important talking point. Hand washing has been trending on social media platforms. Hygiene practices have been actively adopted as safeguard measures in households in some form or other, and as of March 2020, 77% are washing/sanitizing hands more often and 48% sanitising surfaces at home or at work. According to Sight data, in March 2020 30% of consumers ordered only from local restaurants they trust. Trust and hygiene will go hand in hand as we navigate the post-Covid return to restaurant normalcy. One simple way to ensure your diners are confident of your hygiene practices is to show them. Social media posts or stories can reassure your diners of your restaurant's hygiene standards.
Work on your restaurant menu
The restaurant industry is always busy. Try to see this opportunity as the perfect time to reflect and reset. Now is the time for you to rationalise or re-engineer your menus and cross-check its efficiency. And the time to reduce the risk of cross contamination and foodborne illness that our diners will be concerned about in the future. 
It's expected that diners will take time to get back to 'normal' and there will a period when they'll still stay in and prefer to cook and eat at home. Restaurants can still get involved in the experience though, offering meal kits for your best-selling dishes for instance. Look at alternatives like family-friendly portions, multiple-course offerings, personal touches in each delivery or meal kit.
Building back your relationship with diners
"It is very challenging to look for a tangible assurance for the restaurant & retail industry to survive all this, since government support and regulations differ from country to country.  However, what has been evident, is that the local communities will rally together to do as much as they can to support the reopening of restaurants," says Chef Joanne.
It's important to take extra steps to be more proactive in the communities you serve, as they will help you build back your trade once you're able to. We will need to focus on trying to increase consumers' confidence to dine out. Once we are in the clear, we face a period where our customers will still want to cook at home as they feel safe and familiar doing so. But restaurants can still be a part of this at-home experience by making their specialties available for home cooking – whether that's marinated meats, signature spice mixes or ready-made sauces. 
As an industry, it's also important that we convey how serious we are about hygiene, food safety and the cleanliness of our teams. Think about how you can expand your operations beyond in-house diners or deliveries to make business sustainable.
Diners will choose restaurants that can offer transparency around their food – where it's sourced, how the food was produced or cooked, and how safe the experience will be when they dine out?
"They say a person's true character is revealed during times of crisis, and we have to try to be the best in such times. The foodservice industry has indeed put its best foot forward showing much dignity and a sense of solidarity despite all that is happening. That in itself gives people hope that things will turn around."