Iced tea is the fastest-growing non-alcoholic beverage ordered by customers around the world. Why? It's refreshing, compliments most dishes, and is a far healthier option than sugar-filled carbonated soft drinks. An average serving of a carbonated drink contains around 10 teaspoons of pure sugar, compared to the minimal 'natural' sugars found in the fruits that are added to iced tea. So, it's hardly surprising that as more of your customers are becoming health-savvy, it's fast becoming one of the Middle East's ultimate thirst-quenchers.
Sold in 150 countries, Lipton Tea is already a trusted brand with your customers, and Lipton Fresh Brew Iced Tea shares the same heritage.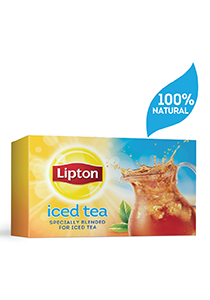 Iced Tea is the fastest-growing non-alcoholic beverage. It's made from real tea leaves and is known for a better taste profile. Lipton® Fresh Brewed Iced Tea is made with a special blend of real tea leaves for a consistently delicious, fresh taste.
Find out more

Along with offering a superior taste experience, 100% of Lipton tea comes from sustainable sources. This is verified by the Rainforest Alliance stamp, a reminder of Unilever's commitment to sustainability. So, your customers can enjoy their iced tea, knowing it's not only good for them but the planet, too.

Health benefits of tea include: