Introducing the Tea and Brunch pairing maestros
Our UFS Chefs, Mauritz van Vroenhoven and Ronald van der Laars have made it easy for you by creating exceptional brunch dishes, specifically to pair with an equally exceptional range of teas. The beauty of this is that, while both can stand on their own, when served together they create an occasion that your guests will remember. More enjoyment for your guests. More revenue for you. Bring on the Brunch!
Where Old Meets New

The zesty citrus of Earl Grey meets the richness of hollandaise.
If you haven't yet heard of the potato waffle, well now you have. It's as delicious as it sounds and is sure to be a huge hit with your customers. A reinterpretation of the classic Eggs Benedict, this dish pairs exceptionally well with Earl Grey tea the citrus notes providing the perfect counterpoint to cut through those big flavours.  
As Fresh as it Gets
Feta and Watermelon: an elegant marriage of soft saltiness with crunchy sweetness. Have two ingredients ever complemented each other so completely?
Brunch might be the perfect occasion to let loose and indulge, but many people see it as an opportunity to go for the healthy option. In that case, there's every reason to announce this sensational pairing. Both the Peppermint tea and the salad are light and uplifting, and they play off each other beautifully. 
Spice it up
Shakshuka's blend of North African spices pairs beautifully with the sweetness of the tea
When you think of a great Middle Eastern dish, it's hard to look past Shakshuka. Throw a delicious Black Vanilla tea into the mix and not only do you have something that's regionally relevant, it's also a perfect pairing. This combination is complex, fragrant and will have your customers coming back for more.
A Classic Combination

A magnificent blend of colours and flavours to delight all the senses
If there's a better pairing than this, then we don't know about it. This classic Italian salad is fresh and delicious enough on its own, but the dark, rich fruit tea offsets the pickled onion and takes it to another level. A powerhouse combination that will elevate your guests' experience.
Click below for a free download of all 20 expertly created recipes and brunch pairings. 
Related Products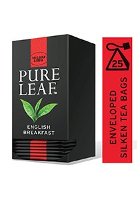 Recommended price (including VAT)
Product not available
Product added to cart: Pure Leaf English Breakfast Tea 25 Pyramid Tea Bagsx6