Holidays are wonderful. It's the time of indulgence. It's the time to drink tea, eat and be merry. But it's also the time to be little watchful so that you can avoid the holiday weight gain. We have rounded up 5 handy tips that can help you keep the calorie-count down this year.

Everything in moderation. Enjoy everything you love, but in small portions. And in times when you go overboard, balance it out with the Classic Green tea.

Plan a pre-party meal. Try to have a healthy snack before heading out - nuts, fruits or a quick salad, have something. This will curb your cravings and stop you from over indulging.

Do not starve. Do not skip. Do not make that mistake. Skipping meals will only make you eat large fewer meals and slow down your metabolism. Eat frequently and follow it up with a cup of Mint Green Tea.

Go slow on desserts & dressings. They are loaded with fat and they have a knack of settling in places you don't like. The trick is not to socialize around the dessert counter.

Squeeze in some exercise. 30 minutes a day will do wonders for you this holiday season. It not only helps you burn calories but also reduces stress, keeping you in a good mood.

Looking for more ways to balance your holiday calories with Lipton green tea? Get your free Lipton Green Tea Fit Kit here.
Related Products
6
95
loyalty points
20% discount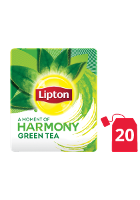 Recommended price (including VAT)
Product not available
Product added to cart: Lipton Green Tea Pure (16x20 teabags)
Recommended price (including VAT)
Product not available
Product added to cart: Lipton Green Tea Mint (12x100 teabags)