Carte D'or Strawberry Topping (6x1L)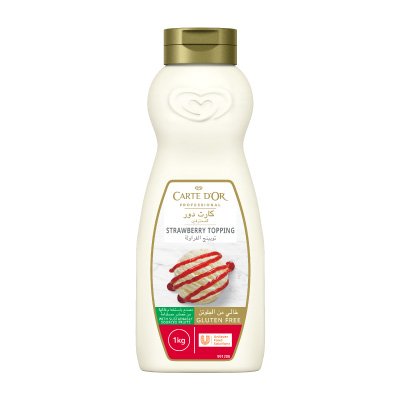 Total Price
126.79 AED
Recommended price (including VAT)
UFS Reward Points
127 Points
Preparation
Special for Ice-Cream and Pastry. Add directly over the product.
Storage
Ambient (Store in a cool and dry place) in original packaging.
Tips
Try folding our Carte D'or Strawberry Topping into some whipped or butter cream as a filling for cakes.
Benefits
• Cap with anti-drip dispenser ensures ideal dosing without spilling
• Large cap size for perfect balance and use to the last drop
• Easy one hand grip for portioning and decorating
• Side window for perfect overview
Ingredients
Glucose Syrup, Fructose Syrup, Strawberry Pulp, Water, Sugar, Acidifier (Citric Acid), Colours (E163, E120), Gelling Agent (Pectin E440), Preservative (Potassium Sorbate E202), Natural Strawberry Flavour
Description
This fruity and highly versatile strawberry sauce is ideal for pancakes and cheesecake. The high fruit content of Carte D'or Strawberry Topping makes it perfect for ice cream and all pastry applications.


Nutrition Information

| Typical values | Per 100 g | Per 100 ml | Per portion |
| --- | --- | --- | --- |
| Energy kJ | 1,200.00 kJ | - kJ | 0.00 kJ |
| Energy kcal | 290.00 kcal | - kcal | 0.00 kcal |
| Protein | 0.10 g | - g | 0.00 g |
| Carbohydrate, by difference | 72.00 g | - g | 0.00 g |
| Carbohydrate including fibers | - g | - g | 0.00 g |
| Sugars, total | 72.00 g | - g | 0.00 g |
| Total lipid (fat) | 0.03 g | - g | 0.00 g |
| Fatty acids, total saturated | 0.000 g | - g | 0.000 g |
| Fatty acids, total monounsaturated | - g | - g | 0.000 g |
| Fatty acids, total polyunsaturated | - g | - g | 0.000 g |
| Fatty acids, total trans-monoenoic | - g | - g | 0.000 g |
| Cholesterol | 0.00 mg | - mg | 0.00 mg |
| Fiber, total dietary | 0.2 g | - g | 0.0 g |
| Calcium, Ca | - mg | - mg | 0 mg |
| Iron, Fe | - mg | - mg | 0.00 mg |
| Potassium, K | - mg | - mg | 0 mg |
| Sodium, Na | 10.00 mg | - mg | 0.00 mg |
| Vitamin A, IU | - IU | - IU | 0 IU |
| Vitamin C, total ascorbic acid | - mg | - mg | 0.0 mg |
| Salt (based on sodium) | - g | - g | 0.00 g |
| Water | - g | - g | 0.00 g |
| Ash | - g | - g | 0.00 g |

*% of Reference Intake of an average adult ({0}) 8400kj/2000kcal