Knorr Chicken Powder - No Added MSG (6x1kg)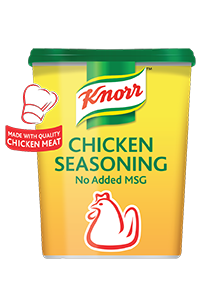 How this product will help you
Made with high quality, real chicken.
Enhances stock flavor and adds meatiness without the use of MSG.
Versatile usage in a wide variety of applications.
Consistent quality and taste every time.
+ See all product details
All product information
Nutrition and allergens
Ingredients
Maltodextrin, Salt, Sugar, Cornflour, Chicken Meat and Fat, Permitted Flavouring (Contains Egg), Hydrolyzed Vegetable Protein, Spices, Sodium, Inosinate and Guanylate, Soy Sauce (Contains Wheat) and Celery
Allergen Information
May contain traces of Cereals containing Gluten, Milk, Fish, Crustacean, Mollusc, Peanut and Tree Nut.
Nutrition Information
| Typical values | Per 100 g | Per 100 ml |
| --- | --- | --- |
| Energy kJ | 975.00 kJ | - kJ |
| Energy kcal | 225.00 kcal | - kcal |
| Protein | 5.00 g | - g |
| Carbohydrate, by difference | 50.00 g | - g |
| Carbohydrate including fibers | - g | - g |
| Sugars, total | 7.50 g | - g |
| Total lipid (fat) | 0.00 g | - g |
| Fatty acids, total saturated | 0.000 g | - g |
| Fatty acids, total monounsaturated | 0.000 g | - g |
| Fatty acids, total polyunsaturated | 0.000 g | - g |
| Fatty acids, total trans-monoenoic | 0.000 g | - g |
| Cholesterol | - mg | - mg |
| Fiber, total dietary | 0.0 g | - g |
| Calcium, Ca | - mg | - mg |
| Iron, Fe | - mg | - mg |
| Potassium, K | - mg | - mg |
| Sodium, Na | 15,050.00 mg | - mg |
| Vitamin A, IU | - IU | - IU |
| Vitamin C, total ascorbic acid | - mg | - mg |
| Salt (based on sodium) | - g | - g |
| Water | - g | - g |
| Ash | - g | - g |
*% of Reference Intake of an average adult (8400kj/2000kcal)