Knorr Chicken Powder - No Added MSG (6x1kg)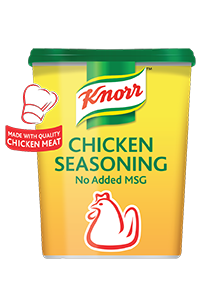 Total Price
231.53 AED
Recommended price (including VAT)
UFS Reward Points
232 Points
Preparation
To prepare 1L of Chicken stock, add 20g of chicken seasoning powder to 1L of boiling water.
Storage
Ambient (Close pack tightly. Store in a cool and dry place), Max 30˚C.
Tips
Knorr Chicken Stock No Added MSG truly has all the flavour you need from a home made stock. It can also be the perfect seasoning for your side dishes to any chicken main course.
Benefits
• Balanced mirepoix flavor
• No added MSG
Allergen Information
May contain traces of Cereals containing Gluten, Milk, Fish, Crustacean, Mollusc, Peanut and Tree Nut.
Ingredients
Maltodextrin, Salt, Sugar, Cornflour, Chicken Meat and Fat, Permitted Flavouring (Contains Egg), Hydrolyzed Vegetable Protein, Spices, Sodium, Inosinate and Guanylate, Soy Sauce (Contains Wheat) and Celery
Nutrition Information
All food additives used are from plant, animal and synthetic origins.
Description
Knorr Chicken Seasoning Powder - No Added MSG - is made with quality real chicken meat that adds well-balanced chicken umami to your dishes without the use of MSG. Perfect for use in stir-fry, soups and marinades.


Nutrition Information

| Typical values | Per 100 g | Per 100 ml | Per portion |
| --- | --- | --- | --- |
| Energy kJ | 975.00 kJ | - kJ | 0.00 kJ |
| Energy kcal | 225.00 kcal | - kcal | 0.00 kcal |
| Protein | 5.00 g | - g | 0.00 g |
| Carbohydrate, by difference | 50.00 g | - g | 0.00 g |
| Carbohydrate including fibers | - g | - g | 0.00 g |
| Sugars, total | 7.50 g | - g | 0.00 g |
| Total lipid (fat) | 0.00 g | - g | 0.00 g |
| Fatty acids, total saturated | 0.000 g | - g | 0.000 g |
| Fatty acids, total monounsaturated | 0.000 g | - g | 0.000 g |
| Fatty acids, total polyunsaturated | 0.000 g | - g | 0.000 g |
| Fatty acids, total trans-monoenoic | 0.000 g | - g | 0.000 g |
| Cholesterol | - mg | - mg | 0.00 mg |
| Fiber, total dietary | 0.0 g | - g | 0.0 g |
| Calcium, Ca | - mg | - mg | 0 mg |
| Iron, Fe | - mg | - mg | 0.00 mg |
| Potassium, K | - mg | - mg | 0 mg |
| Sodium, Na | 15,050.00 mg | - mg | 0.00 mg |
| Vitamin A, IU | - IU | - IU | 0 IU |
| Vitamin C, total ascorbic acid | - mg | - mg | 0.0 mg |
| Salt (based on sodium) | - g | - g | 0.00 g |
| Water | - g | - g | 0.00 g |
| Ash | - g | - g | 0.00 g |

*% of Reference Intake of an average adult ({0}) 8400kj/2000kcal