Knorr Chicken Shawarma Marinade (6x750g)
243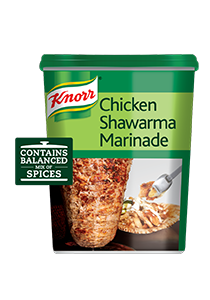 This product will help you with
Flavour consistency – replicates the taste and quality every single time
Signature taste – we made sure not to include any dominant flavours therefore you can add your secret ingredients for your authentic touch
Time saving – marinates in just 4 hours
Meat tenderness – Deep absorbing marinade which makes the meat even more tender and juicy
+ See all product details
All product information
Nutrition and allergens
Ingredients
Dried Vegetables (Garlic, Onion), Maltodextrin, Salt, Spices (Coriander, Cardmom, Hot Red Pepper, Black Pepper, Cumin, Cloves, Nutmeg, Cinnamon, Ginger), Acidity Regulators (Sodium Diacetate E262ii, Citric Acid E330), Flavor Enhancer (Mono Sodium Glutamate E621), Flavor Enhancer (Mono Sodium Glutamate E621), Sugar, Nature Identical Shawerma Flavor, Bay Leaves, Hydrogenated Vegetable Fat, Anti-caking Agent (E551)
Nutrition Information
| Typical values | Per 100 g | Per 100 ml |
| --- | --- | --- |
| Energy kJ | 1,193.00 kJ | - kJ |
| Energy kcal | 285.00 kcal | - kcal |
| Protein | 9.10 g | - g |
| Carbohydrate, by difference | 58.80 g | - g |
| Carbohydrate including fibers | - g | - g |
| Sugars, total | 2.10 g | - g |
| Total lipid (fat) | 1.60 g | - g |
| Fatty acids, total saturated | 0.590 g | - g |
| Fatty acids, total monounsaturated | - g | - g |
| Fatty acids, total polyunsaturated | - g | - g |
| Fatty acids, total trans-monoenoic | - g | - g |
| Cholesterol | - mg | - mg |
| Fiber, total dietary | 0.2 g | - g |
| Calcium, Ca | - mg | - mg |
| Iron, Fe | - mg | - mg |
| Potassium, K | - mg | - mg |
| Sodium, Na | 7,730.00 mg | - mg |
| Vitamin A, IU | - IU | - IU |
| Vitamin C, total ascorbic acid | - mg | - mg |
| Salt (based on sodium) | - g | - g |
| Water | - g | - g |
| Ash | - g | - g |
*% of Reference Intake of an average adult (8400kj/2000kcal)
Key product information
Description
Knorr Chicken Shawarma Marinade is the perfect base for authentic-tasting chicken shawarma. It was co-created with some of the best shawarma chefs in the Middle East, ensuring best results time after time.
Usage information
Preparation
Mix two tablespoon of the product with 1Kg of Chicken meat. Add two tablespoon oil and five tablespoon yoghurt. Marinate for 3-4 hours and grill/bake.
Benefits
• Contains balanced mix of spices
• Grants freedom to add your signature touch
• Enough to prepare 25kg • Ready to grill in only 4 hours
Shelf Life
9 Months ambient storage.
Storage
Ambient (Store in a cool and dry place), Min 20°C & Max 30°C.
Tips
Knorr Chicken Shawarma Marinade has all the spices and flavour needs for an authentic shawarma base. It can also be used to give a Middle Eastern touch to your fusion dishes.