Knorr Cream of Mushroom Soup (6x700g)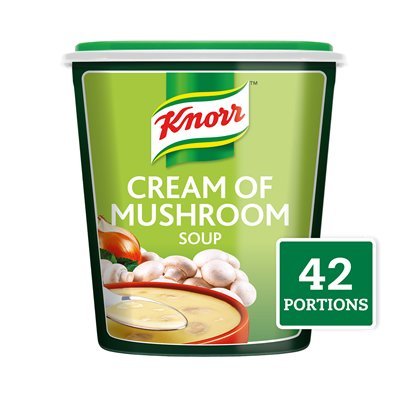 Total Price
209.48 AED
Recommended price (including VAT)
UFS Reward Points
209 Points
Preparation
To prepare 1L of Cream of Mushroom Soup: Add 90g of soup powder (= 4 tablespoon) to 1L of lukewarm water. Stir continuously and bring to boil. Turn down the heat and simmer for 10 mins stirring occasionally. Close the lid tightly after use and store in a cool, dry place.
Storage
Ambient (Store in a cool and dry place), Max 30˚C.
Tips
Knorr Cream of Mushroom Soup will make the tastiest addition to any mushroom dish, from pastas to pies.
Benefits
• Bain marie stable
• Suitable for vegetarians
• Boosts mushroom flavour in soups and sauces
Allergen Information
Contains Wheat Gluten and Dairy Products.
Ingredients
Hydroegnated Palm Fat, Modified Corn Starch, Salt, Maltodextrin, Rice Flour, Flavour Enhancers (Mono Sodium Glutamate E621, Disodium Inosinate E631, Disodium Guanylate E627), Corn Starch, Sugar, Wheat Flour, Yeast Extract, Mushroom, Artificial Mushroom Flavor, Onion Powder, Acid Regulator (Citric Acid E330), White Pepper, Colorants (Caramel Color E150c, Curcuma Oleoresin), Paprika Extract
Description
Knorr Cream of Mushroom Soup is an ideal base for vegetarian cream soups and sauces.


Nutrition Information

| Typical values | Per 100 g | Per 100 ml | Per portion |
| --- | --- | --- | --- |
| Energy kJ | 2,029.00 kJ | - kJ | 0.00 kJ |
| Energy kcal | 485.00 kcal | - kcal | 0.00 kcal |
| Protein | 6.00 g | - g | 0.00 g |
| Carbohydrate, by difference | 48.80 g | - g | 0.00 g |
| Carbohydrate including fibers | - g | - g | 0.00 g |
| Sugars, total | 2.30 g | - g | 0.00 g |
| Total lipid (fat) | 30.00 g | - g | 0.00 g |
| Fatty acids, total saturated | 19.300 g | - g | 0.000 g |
| Fatty acids, total monounsaturated | - g | - g | 0.000 g |
| Fatty acids, total polyunsaturated | - g | - g | 0.000 g |
| Fatty acids, total trans-monoenoic | 0.300 g | - g | 0.000 g |
| Cholesterol | - mg | - mg | 0.00 mg |
| Fiber, total dietary | 1.0 g | - g | 0.0 g |
| Calcium, Ca | - mg | - mg | 0 mg |
| Iron, Fe | - mg | - mg | 0.00 mg |
| Potassium, K | - mg | - mg | 0 mg |
| Sodium, Na | 4,200.00 mg | - mg | 0.00 mg |
| Vitamin A, IU | - IU | - IU | 0 IU |
| Vitamin C, total ascorbic acid | - mg | - mg | 0.0 mg |
| Salt (based on sodium) | - g | - g | 0.00 g |
| Water | - g | - g | 0.00 g |
| Ash | - g | - g | 0.00 g |

*% of Reference Intake of an average adult ({0}) 8400kj/2000kcal