Knorr Premium Dark Soy Sauce (6x2L)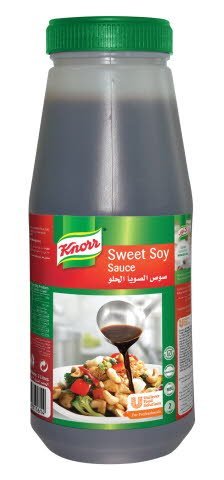 Total Price
220.50 AED
Recommended price (including VAT)
UFS Reward Points
221 Points
Preparation
As per various recipe suggestions.
Storage
12 Months Unopened: Ambient (Store in a cool and dry place protected from direct sunlight)
Tips
• Get the flavour of authentic soy sauce in dishes such as stir fry, beef rang dang, Nasi (rice) gorang, Bakmi (noodles) gorang, glazing and marinades.
• Don't add any additonal salt in the blanching water. You can also balance the sauce off with a little water.
Benefits
• Knorr Premium Dark Soy Sauce has a dense, dark and silky colour which gives the desired colour to dishes
• It has higher yield which means less product usage. Up to 49% more servings and 13% less cost!
• It has a glossy appearance that evenly coats ingredients
Allergen Information
Soybean and Wheat Flour(Gluten).
Ingredients
Water, Soybean, Wheat Flour, Salt, Sugar, Caramel Colour (E150c), Preservative: Sodium Benzoate (E211)
Description
Knorr Premium Dark Soy Sauce is a dense, rich and balanced soy sauce that provides an even coating and glazing on ingredients with a higher yield than competitors.


Nutrition Information

| Typical values | Per 100 g | Per 100 ml | Per portion |
| --- | --- | --- | --- |
| Energy kJ | 1,142.00 kJ | - kJ | 0.00 kJ |
| Energy kcal | 272.00 kcal | - kcal | 0.00 kcal |
| Protein | 7.40 g | - g | 0.00 g |
| Carbohydrate, by difference | 60.90 g | - g | 0.00 g |
| Carbohydrate including fibers | 62.20 g | - g | 0.00 g |
| Sugars, total | 28.60 g | - g | 0.00 g |
| Total lipid (fat) | 0.10 g | - g | 0.00 g |
| Fatty acids, total saturated | 0.100 g | - g | 0.000 g |
| Fatty acids, total monounsaturated | 0.000 g | - g | 0.000 g |
| Fatty acids, total polyunsaturated | - g | - g | 0.000 g |
| Fatty acids, total trans-monoenoic | - g | - g | 0.000 g |
| Cholesterol | 0.00 mg | - mg | 0.00 mg |
| Fiber, total dietary | 1.3 g | - g | 0.0 g |
| Calcium, Ca | - mg | - mg | 0 mg |
| Iron, Fe | - mg | - mg | 0.00 mg |
| Potassium, K | - mg | - mg | 0 mg |
| Sodium, Na | 2,887.70 mg | - mg | 0.00 mg |
| Vitamin A, IU | - IU | - IU | 0 IU |
| Vitamin C, total ascorbic acid | - mg | - mg | 0.0 mg |
| Salt (based on sodium) | - g | - g | 0.00 g |
| Water | - g | - g | 0.00 g |
| Ash | - g | - g | 0.00 g |

*% of Reference Intake of an average adult ({0}) 8400kj/2000kcal