Lipton Green Tea Mint (16x20 teabags)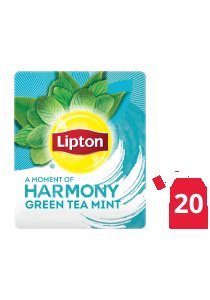 Total Price
95.09 AED
Recommended price (including VAT)
UFS Reward Points
190 Points
Preparation
Tea bag application: 2 - 3 minutes infusion of teabag in boiling water (100°C).
Packaging
16 x 20 teabags
Storage
Ambient (Store in a cool and dry place), Max 25°C.
Benefits
Rainforest Alliance Certified™
Allergen Information
None
Ingredients
Green Tea, Spearmint, Mint Flavour
Description
Lipton Green Tea Mint with the refreshingly pleasant mint flavour that's well preserved in an elegant envelope. Made from delicate young tea leaves, its blend of green tea and spearmint leafs makes for a truly delicious tea. The tea bags are packaged in envelopes, so you get the same crisp taste and aroma - from the first tea bag and the last.


Nutrition Information

| Typical values | Per 100 g | Per 100 ml | Per portion |
| --- | --- | --- | --- |
| Energy kJ | 2.00 kJ | - kJ | 0.00 kJ |
| Energy kcal | 1.00 kcal | - kcal | 0.00 kcal |
| Protein | 0.00 g | - g | 0.00 g |
| Carbohydrate, by difference | 0.00 g | - g | 0.00 g |
| Carbohydrate including fibers | - g | - g | 0.00 g |
| Sugars, total | 0.00 g | - g | 0.00 g |
| Total lipid (fat) | 0.00 g | - g | 0.00 g |
| Fatty acids, total saturated | 0.000 g | - g | 0.000 g |
| Fatty acids, total monounsaturated | 0.000 g | - g | 0.000 g |
| Fatty acids, total polyunsaturated | 0.000 g | - g | 0.000 g |
| Fatty acids, total trans-monoenoic | 0.000 g | - g | 0.000 g |
| Cholesterol | 0.00 mg | - mg | 0.00 mg |
| Fiber, total dietary | 0.0 g | - g | 0.0 g |
| Calcium, Ca | - mg | - mg | 0 mg |
| Iron, Fe | - mg | - mg | 0.00 mg |
| Potassium, K | - mg | - mg | 0 mg |
| Sodium, Na | 0.00 mg | - mg | 0.00 mg |
| Vitamin A, IU | - IU | - IU | 0 IU |
| Vitamin C, total ascorbic acid | - mg | - mg | 0.0 mg |
| Salt (based on sodium) | - g | - g | 0.00 g |
| Water | - g | - g | 0.00 g |
| Ash | - g | - g | 0.00 g |

*% of Reference Intake of an average adult ({0}) 8400kj/2000kcal