Lipton Pyramid Camomile & Honey Flavour (6x30 teabags)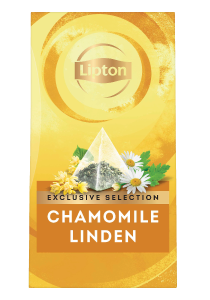 Total Price
105.00 AED
Recommended price (including VAT)
UFS Reward Points
105 Points
Preparation
Infuse in freshly boiled water (80℃) for 3-5 minutes.
Storage
Ambient (Store in a cool, dry place), Max 25°C.
Benefits
Camomile has been used for centuries as a mild and relaxing sleep aid.
Allergen Information
None
Ingredients
Camomile (94%), Nature Identical Honey Flavouring (6%)
Description
The aromatic camomile is combined with the sweet flavour and aroma of honey, coupled with a bright yellow colour. Caffeine-free for that feeling of tranquility.


Nutrition Information

| Typical values | Per 100 g | Per 100 ml | Per portion |
| --- | --- | --- | --- |
| Energy kJ | 17.00 kJ | - kJ | 0.00 kJ |
| Energy kcal | 4.00 kcal | - kcal | 0.00 kcal |
| Protein | 0.50 g | - g | 0.00 g |
| Carbohydrate, by difference | 0.50 g | - g | 0.00 g |
| Carbohydrate including fibers | - g | - g | 0.00 g |
| Sugars, total | 0.50 g | - g | 0.00 g |
| Total lipid (fat) | 0.00 g | - g | 0.00 g |
| Fatty acids, total saturated | 0.000 g | - g | 0.000 g |
| Fatty acids, total monounsaturated | 0.000 g | - g | 0.000 g |
| Fatty acids, total polyunsaturated | 0.000 g | - g | 0.000 g |
| Fatty acids, total trans-monoenoic | 0.000 g | - g | 0.000 g |
| Cholesterol | 0.00 mg | - mg | 0.00 mg |
| Fiber, total dietary | - g | - g | 0.0 g |
| Calcium, Ca | - mg | - mg | 0 mg |
| Iron, Fe | - mg | - mg | 0.00 mg |
| Potassium, K | - mg | - mg | 0 mg |
| Sodium, Na | 0.00 mg | - mg | 0.00 mg |
| Vitamin A, IU | - IU | - IU | 0 IU |
| Vitamin C, total ascorbic acid | - mg | - mg | 0.0 mg |
| Salt (based on sodium) | - g | - g | 0.00 g |
| Water | - g | - g | 0.00 g |
| Ash | - g | - g | 0.00 g |

*% of Reference Intake of an average adult ({0}) 8400kj/2000kcal
* Brainjuicer on-line quantitative research in Germany (n = 302), Netherlands (n= 301), Poland (n=303), September 2010