Lipton Refreshing Lemon (6x25 pyramid tea bags)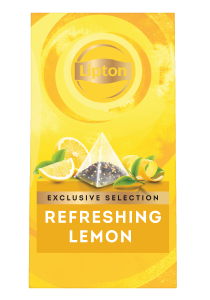 Lipton Refreshing Lemon (6x25 pyramid tea bags)
Packaging
Quantity
Lipton Refreshing Lemon (6x25 pyramid tea bags)
14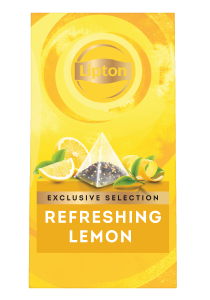 Lipton Refreshing Lemon (6x25 pyramid tea bags)
Serve the perfect cup of tea
Pyramid shaped teabags are preferred by 76% of guests
The shape of the teabag allows for better and faster infusion
Large tea leaves mixed with pieces of fruits, herbs, and spices
100% sustainably sourced tea, Rainforest Alliance certified
+ See all product details
---
An exceptional tea experience can help your business stand out
Serve the perfect cup of tea
Pyramid shaped teabags are preferred by 76% of guests
The shape of the teabag allows for better and faster infusion
Large tea leaves mixed with pieces of fruits, herbs, and spices
100% sustainably sourced tea, Rainforest Alliance certified
76% of consumers prefer a pyramid shaped tea bag*
---
All product information
Nutrition and allergens
Ingredients
Black Tea, Natural Lemon Flavouring, Lemon Peel (2.6%)
Allergen Information
None
Nutrition Information
| Typical values | Per 100 g | Per 100 ml |
| --- | --- | --- |
| Energy kJ | 0.00 kJ | - kJ |
| Energy kcal | 0.00 kcal | - kcal |
| Protein | 0.00 g | - g |
| Carbohydrate, by difference | 0.00 g | - g |
| Carbohydrate including fibers | - g | - g |
| Sugars, total | 0.00 g | - g |
| Total lipid (fat) | 0.00 g | - g |
| Fatty acids, total saturated | 0.000 g | - g |
| Fatty acids, total monounsaturated | 0.000 g | - g |
| Fatty acids, total polyunsaturated | 0.000 g | - g |
| Fatty acids, total trans-monoenoic | 0.000 g | - g |
| Cholesterol | 0.00 mg | - mg |
| Fiber, total dietary | 0.0 g | - g |
| Calcium, Ca | - mg | - mg |
| Iron, Fe | - mg | - mg |
| Potassium, K | - mg | - mg |
| Sodium, Na | 0.00 mg | - mg |
| Vitamin A, IU | - IU | - IU |
| Vitamin C, total ascorbic acid | - mg | - mg |
| Salt (based on sodium) | - g | - g |
| Water | - g | - g |
| Ash | - g | - g |
*% of Reference Intake of an average adult (8400kj/2000kcal)
* Brainjuicer on-line quantitative research in Germany (n = 302), Netherlands (n= 301), Poland (n=303), September 2010
Key product information
Description
This orthodox mild black tea with bright lemon peel is balanced with a refreshing lemon flavour and aroma.
Usage information
Preparation
Infuse in freshly boiled water (100℃) for 3-5 minutes.
Benefits
Rainforest Alliance Certified™
Storage
Ambient (Store in a cool and dry place away from direct sunlight and moisture), Max 25°C.