Lipton Yellow Label Black Tea Loose (2x5KG)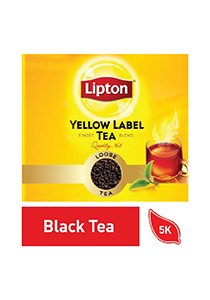 Total Price
215.43 AED
Recommended price (including VAT)
UFS Reward Points
215 Points
Preparation
• Tea bag application.
Storage
Ambient (Store in a cool and dry place away from direct sunlight and moisture) - 25°C.
Description
Lipton Loose Tea for Hotels, Restaurants, Catering Companies, Offices & Airlines. With our HORECA customers in mind we developed the Lipton loose tea savers pack that delivers the signature black tea with its smooth rich taste which is ideal for consumption anytime anywhere. Lipton Yellow Label takes the finest young tea leaves, squeezes out the pure tea essence and returns it to the final blend to give you the perfect, rich and aromatic cup of tea that you love.


Nutrition Information

| Typical values | Per 100 g | Per 100 ml | Per portion |
| --- | --- | --- | --- |
| Energy kJ | 2.00 kJ | - kJ | 0.00 kJ |
| Energy kcal | 1.00 kcal | - kcal | 0.00 kcal |
| Protein | 0.10 g | - g | 0.00 g |
| Carbohydrate, by difference | - g | - g | 0.00 g |
| Carbohydrate including fibers | - g | - g | 0.00 g |
| Sugars, total | - g | - g | 0.00 g |
| Total lipid (fat) | - g | - g | 0.00 g |
| Fatty acids, total saturated | - g | - g | 0.000 g |
| Fatty acids, total monounsaturated | - g | - g | 0.000 g |
| Fatty acids, total polyunsaturated | - g | - g | 0.000 g |
| Fatty acids, total trans-monoenoic | - g | - g | 0.000 g |
| Cholesterol | - mg | - mg | 0.00 mg |
| Fiber, total dietary | - g | - g | 0.0 g |
| Calcium, Ca | - mg | - mg | 0 mg |
| Iron, Fe | - mg | - mg | 0.00 mg |
| Potassium, K | - mg | - mg | 0 mg |
| Sodium, Na | - mg | - mg | 0.00 mg |
| Vitamin A, IU | - IU | - IU | 0 IU |
| Vitamin C, total ascorbic acid | - mg | - mg | 0.0 mg |
| Salt (based on sodium) | - g | - g | 0.00 g |
| Water | - g | - g | 0.00 g |
| Ash | - g | - g | 0.00 g |

*% of Reference Intake of an average adult ({0}) 8400kj/2000kcal