Pure Leaf Black Tea with Vanilla 25 Pyramid Tea Bagsx6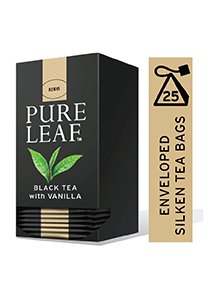 Preparation
• Brewing Instructions/1 Tea Bag: 100˚ Celcius 3 mins.
Storage
Ambient (Store in a cool and dry place away from direct sunlight and moisture) - 25°C.
Tips
Store in cool and dry place away from strong odours.
Benefits
• Rainforest Alliance CertifiedTM
Ingredients
Kenyan Black Tea, Madagascar Vanilla Beans, Natural Flavouring, Marigold Petals
Description
Pure Leaf Black Tea with Vanilla is a long-leaf Kenyan black tea perfectly balanced with madagascan vanilla beans creates a tea-forward with a delectable hint of vanilla. Madagascan vanilla is well known for its indulgent taste.


Nutrition Information

| Typical values | Per 100 g | Per 100 ml | Per portion |
| --- | --- | --- | --- |
| Energy kJ | 17.00 kJ | - kJ | 0.00 kJ |
| Energy kcal | 4.00 kcal | - kcal | 0.00 kcal |
| Protein | 0.50 g | - g | 0.00 g |
| Carbohydrate, by difference | 0.50 g | - g | 0.00 g |
| Carbohydrate including fibers | - g | - g | 0.00 g |
| Sugars, total | 0.50 g | - g | 0.00 g |
| Total lipid (fat) | - g | - g | 0.00 g |
| Fatty acids, total saturated | - g | - g | 0.000 g |
| Fatty acids, total monounsaturated | - g | - g | 0.000 g |
| Fatty acids, total polyunsaturated | - g | - g | 0.000 g |
| Fatty acids, total trans-monoenoic | - g | - g | 0.000 g |
| Cholesterol | - mg | - mg | 0.00 mg |
| Fiber, total dietary | - g | - g | 0.0 g |
| Calcium, Ca | - mg | - mg | 0 mg |
| Iron, Fe | - mg | - mg | 0.00 mg |
| Potassium, K | - mg | - mg | 0 mg |
| Sodium, Na | - mg | - mg | 0.00 mg |
| Vitamin A, IU | - IU | - IU | 0 IU |
| Vitamin C, total ascorbic acid | - mg | - mg | 0.0 mg |
| Salt (based on sodium) | - g | - g | 0.00 g |
| Water | - g | - g | 0.00 g |
| Ash | - g | - g | 0.00 g |

*% of Reference Intake of an average adult ({0}) 8400kj/2000kcal