Pure Leaf Peppermint 20 Pyramid Tea Bagsx6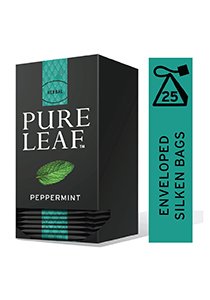 Preparation
• Brewing Instructions/1 Tea Bag: 100˚ Celcius 4 mins.
Storage
Ambient (Store in a cool and dry place away from direct sunlight and moisture) - 25°C.
Tips
Store in cool and dry place away from strong odours.
Ingredients
Peppermint Leaves
Description
Supposedly named after the greek nymph Minthe, this Pure Leaf Tea with Peppermint infusion is carefully dried to lock in the essential oils. The clear and strong menthol note adds a nice freshness to its unique taste.


Nutrition Information

| Typical values | Per 100 g | Per 100 ml | Per portion |
| --- | --- | --- | --- |
| Energy kJ | 17.00 kJ | - kJ | 0.00 kJ |
| Energy kcal | 4.00 kcal | - kcal | 0.00 kcal |
| Protein | 0.50 g | - g | 0.00 g |
| Carbohydrate, by difference | 0.50 g | - g | 0.00 g |
| Carbohydrate including fibers | - g | - g | 0.00 g |
| Sugars, total | 0.50 g | - g | 0.00 g |
| Total lipid (fat) | - g | - g | 0.00 g |
| Fatty acids, total saturated | - g | - g | 0.000 g |
| Fatty acids, total monounsaturated | - g | - g | 0.000 g |
| Fatty acids, total polyunsaturated | - g | - g | 0.000 g |
| Fatty acids, total trans-monoenoic | - g | - g | 0.000 g |
| Cholesterol | - mg | - mg | 0.00 mg |
| Fiber, total dietary | - g | - g | 0.0 g |
| Calcium, Ca | - mg | - mg | 0 mg |
| Iron, Fe | - mg | - mg | 0.00 mg |
| Potassium, K | - mg | - mg | 0 mg |
| Sodium, Na | - mg | - mg | 0.00 mg |
| Vitamin A, IU | - IU | - IU | 0 IU |
| Vitamin C, total ascorbic acid | - mg | - mg | 0.0 mg |
| Salt (based on sodium) | - g | - g | 0.00 g |
| Water | - g | - g | 0.00 g |
| Ash | - g | - g | 0.00 g |

*% of Reference Intake of an average adult ({0}) 8400kj/2000kcal