Almond Caprese Bruschetta
Designed for professional chefs, check out this Almond Caprese Bruschetta recipe: cooking instructions broken into components, full list of professional ingredients, chefs' preparation secrets. Master this recipe with products like: Knorr Mise En Place Basil Pesto.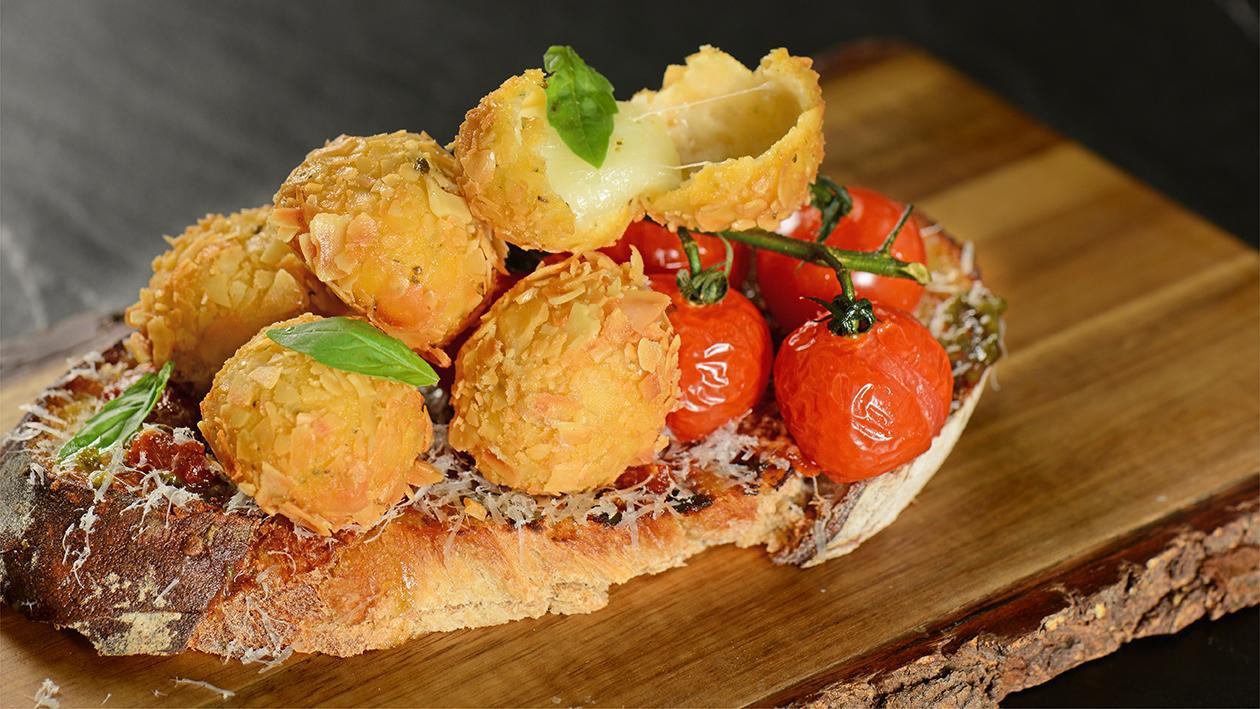 Ingredients
For the Roasted Tomato:
Cherry Tomato, on stalk

500 g

Black pepper, crushed

7 g
For the Cheese Balls:
buffalo mozzarella, mini

600 g
The Bruschetta:
Bread slices, toasted

10 pc

Parmesan cheese, Shredded

20 g
Preparation
For the Roasted Tomato:

Dress tomato cherry with all ingredients and roast in oven at 120°C for 20 minutes.

For the Cheese Balls:

Blend panko bread crumbs with the fresh oregano.
whisk egg and milk together, season with salt and pepper.
season flour with salt & black pepper.
dip cheese balls in flour, then egg and bread crumbs, then again in egg and almond flakes.
set aside in the chiller or freezer.
Deep fry on order until golden color.

The Bruschetta:

Brush bread slice with olive and toast or grill under salamander or on grill , remove and brush with Knorr Mise En Place Basil Pesto.
Add tomato chutney.
Grate the parmesan.
Add Cherry tomato stalk.
Put the deep-fried mozzarella balls.
Garnish with basil leaves.