Baked Sweet Potato Fries & home-made Chipotle Mayo
Designed for professional chefs, check out this Baked Sweet Potato Fries & home-made Chipotle Mayo recipe: cooking instructions broken into components, full list of professional ingredients, chefs' preparation secrets. Master this recipe with products like: Hellmann's Ketchup, Hellmann's Real Mayonnaise, Chipotle Adobo Sauce, Knorr Lime Seasoning, REAL Chipotle Mayonnaise.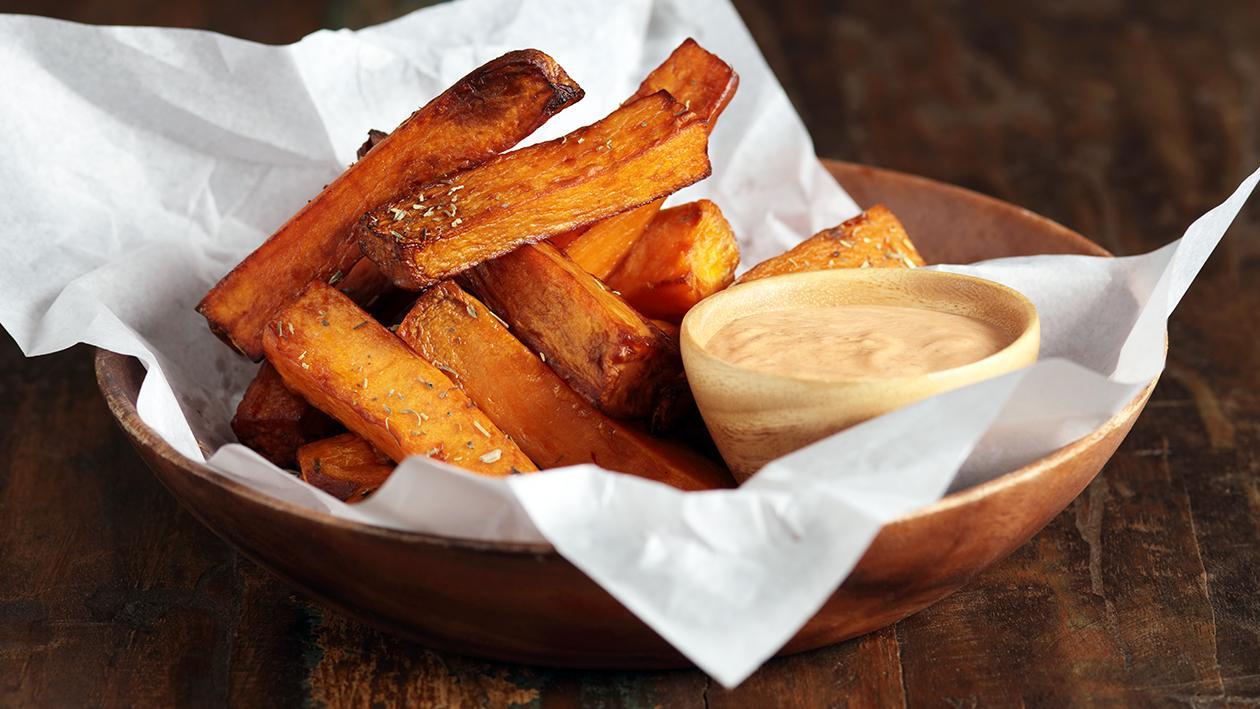 Ingredients
For the Chipotle Adobo Sauce:
Chipotle chillies, dried

24 pc

Ginger and Garlic Paste

50 g

Black pepper, crushed

10 g
For the Mayonnaise:
Chipotle Peppers in Adobo sauce

80 g
Sweet Potatoes:
Extra virgin olive oil

100 ml
Preparation
For the Chipotle Adobo Sauce:

Thoroughly wash the chipotle peppers, remove the stems and place them in a bowl. Cover them with boiling water and weigh them down with a small lid or plate. Let them soak for 20 minutes.
Remove 20 soaked chipotles, leaving the rest in the soaking liquid, and place them in a food processor or blender. Add the Hellmann's Ketchup and a 2 cup of water. Blend until you have a uniform paste.
Add the blended chipotles and ketchup into the pot with the remaining chipotles soaked in water.
Add the onions, garlic, salt, peppercorns and vinegar to the pan. Mix well.
Bring it to a boil, reduce the heat and allow chipotles to simmer for about 1 hour and 45 minutes. Check them at one hour. If the sauce has dried too much, add extra water as needed.
Place the chipotles and adobo in sterilized freezer safe containers. Most recipes only call for a little of this sauce at a time.

For the Mayonnaise:

Mix the Hellmann's Real Mayonnaise with Chipotle Adobo Sauce, cumin powder, sour cream, Knorr Lime Seasoning and chopped fresh coriander.

Sweet Potatoes:

In a large bowl toss sweet potatoes with just enough oil to coat. Spread sweet potatoes in single layer on prepared baking sheet, being sure not to overcrowd.
Bake until sweet potatoes are tender and golden brown, turning occasionally, about 20 minutes.
Serve with REAL Chipotle Mayonnaise.