Designed for professional chefs, check out this Brown Sugar Pavlova with Red Fruits recipe: cooking instructions broken into components, full list of professional ingredients, chefs' preparation secrets. Master this recipe with products like: Carte D'or Chocolate Topping and Carte D'or Strawberry Topping.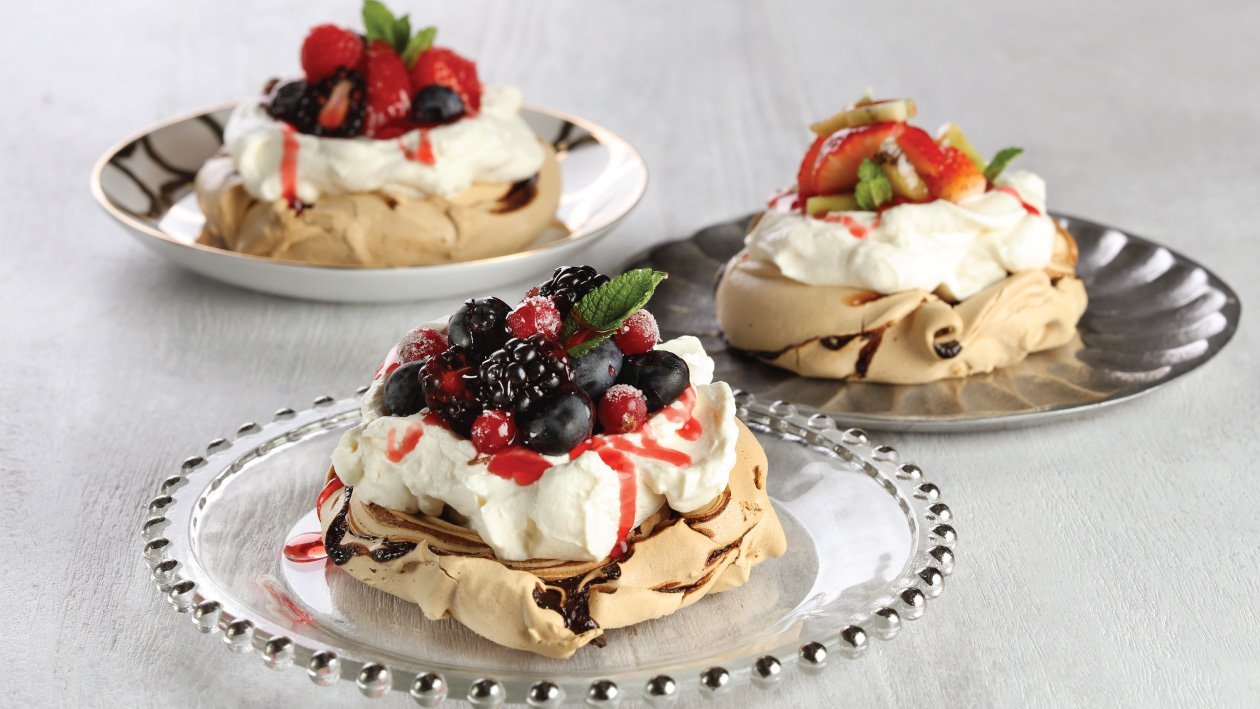 Ingredients
The Meringue:
Caster sugar combined

200 g

Egg whites, at room temperature

4 pc

White balsamic vinegar

5 ml
Toppings:
Strawberries, fresh

150 g
Preparation
The Meringue:

Preheat your oven to 160°C.
In a bowl, blend dark brown sugar and caster sugar.
In a stand mixer with the whisk attachment, beat the egg whites with the salt until soft peaks form.
Begin to add mixed sugars in small additions until stiff peaks are formed, then reduce speed, adding vanilla, white balsamic and cornflour until completely combined.
On a tray lined with greaseproof paper, equally divide the pavlova into 10 miniature pavlovas, drizzle with Carte D'or Chocolate Topping making swirls into the meringue. With the spoon make a small dent in the middle.
Bake at 160°C for 40 minutes, then drop the temperature to 120°C for 45 minutes.
Switch off the oven and allow it to carry over, cook and cool completely inside the oven.

Toppings:

Whip the cream.
Top on pavlovas.
Top with fresh fruit.
Add shaved dark chocolate if desired or drizzle with Carte D'or Strawberry Topping.

Chef's Tips:

You can make these meringues the day before and store in an air-tight container to avoid excess exposure to moisture.