Buffalo Chicken Mac & Cheese
Buffalo sauce is tantalizingly delicious, and everyone loves a good Mac & Cheese. Now imagine combining the two into one dish, one word comes to mind; awesome! Simple, quick and easy recipe that you can download below.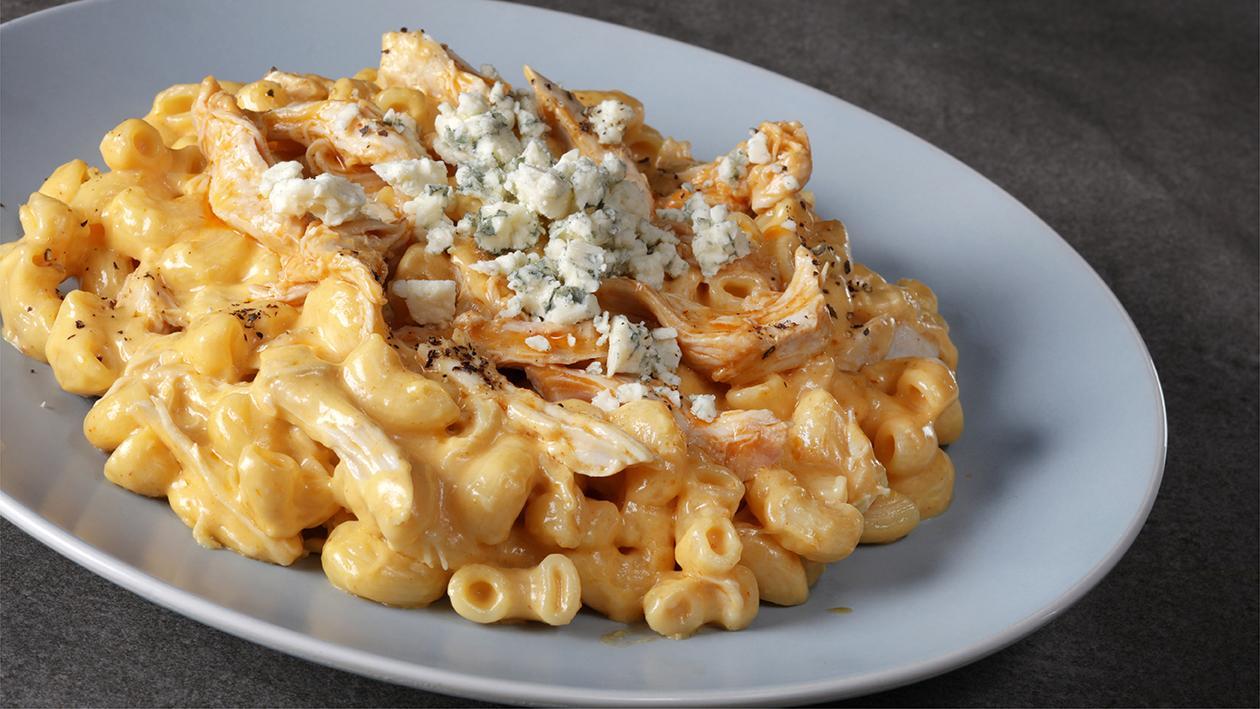 Ingredients
Buffalo Sauce:
Worcestershire Sauce

50 ml
Tomato Sauce:
Pouched Chicken:
Finish off the Pasta:
Cheese, cheddar, grated

200 g

Mozzarella cheese grated

200 g
Garnish:
Blue cheese, crumbled

300 g
Preparation
Buffalo Sauce:

Combine the siracha sauce, butter, vinegar, Worcestershire sauce, Knorr Concentrated Chicken Bouillon, garlic powder and onion powder in a pot and place over medium heat. Bring to a simmer while stirring with a whisk.
As soon as the liquid begins to bubble on the sides of the pot, remove from heat, stir with the whisk, add Knorr Hollandaise Sauce and set aside for use.

Tomato Sauce:

Whisk the Knorr Tomato Powder into simmering water, reduce for 1 minute and keep on the side until finishing the pasta.

Pouched Chicken:

Dissolve Knorr Chicken Stock Powder in water and pouch chicken breast whole on medium heat for 10 minutes.
Remove chicken and set aside to rest before shredding chicken for the pasta dish.

Finish off the Pasta:

At service time toss the cooked macaroni in a pan with shredded chicken.
Add the buffalo sauce and a little tomato sauce. Feel free to play with the ratio's.
Finally add the grated cheese and allow to melt before serving.

Garnish:

Crumble a few grams of blue cheese before serving.

Chefs Advice:

The Knorr Hollandaise Sauce helps to bind the buffalo sauce and thus less change of splitting the sauce.