Butter Chicken Lasagna
Our Butter Chicken Lasagna is a fusion dish that brings together two of the best cuisines in the world; Indian & Italian! We've done an additional spicy tomato sauce for those guests wanting a bit more bite. Download and share this recipe idea with others!
Tip: this is a great recipe for using left over stews or curries.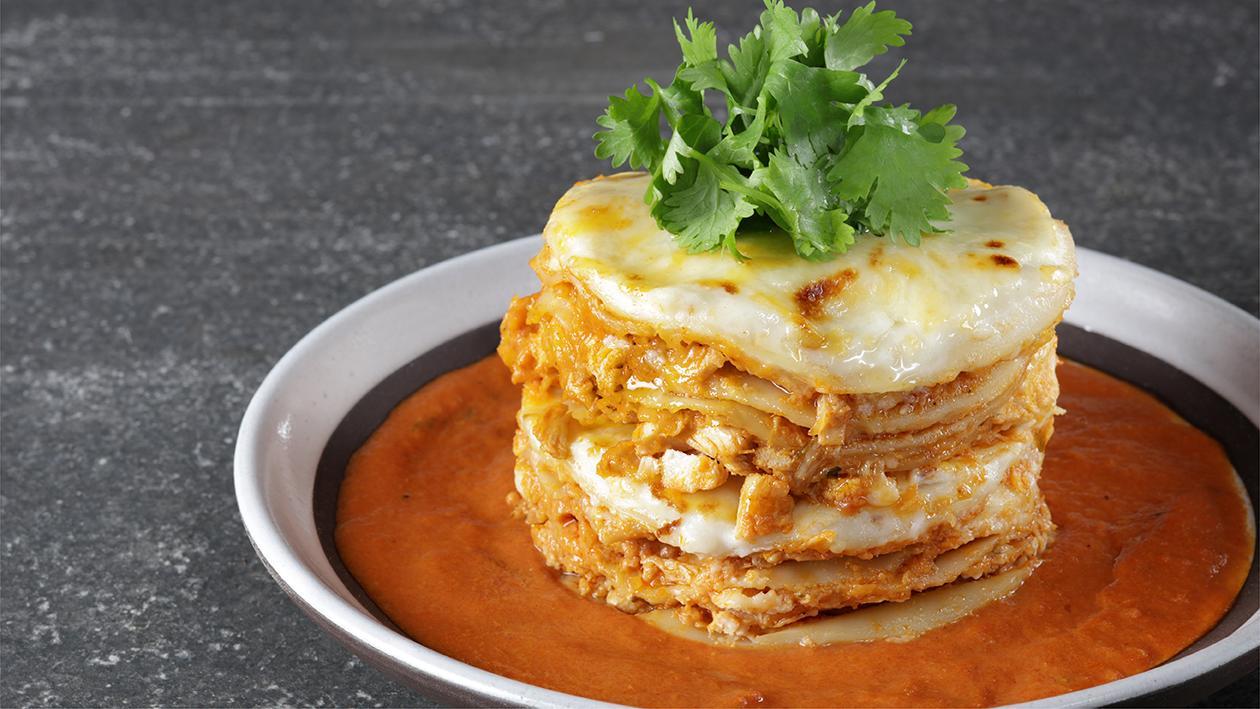 Ingredients
Béchamel Sauce:
Knorr Concentrated Chicken Bouillon (6x1L)

30 ml
Tomato Sauce:
Finish off the Pasta:
Lasagna pasta sheets

1 kg
Garnish:
Mozzarella cheese grated

400 g
Preparation
Béchamel Sauce:

Melt the butter in a saucepan over medium-low heat.
Stir in the flour. Whisk in a little of the milk at a time, stirring continuously until you have a smooth, slightly thick sauce.
Finish by adding Knorr Concentrated Chicken Bouillon.

Tomato Sauce:

Whisk the Knorr Tomato Powder into simmering water before adding chilli and Knorr Mise en Place Red Pesto. Keep this sauce to plate underneath the lasagna.

Finish off the Pasta:

Chop the butter chicken pieces smaller, this will help with even layers of lasagna.
Layer the lasagna by first placing béchamel sauce at the bottom then a row of pasta sheets followed by the chopped butter chicken.
Repeat the layering to form 3 or more layers.
Before baking top off the last layer with béchamel sauce and grated cheese.
Bake for 20 min at 180°C.
Allow the lasagna to rest for 10 minutes before cutting.

Garnish:

Serve the spicy tomato sauce underneath or on the side.
Top off with fresh coriander leaves.