Chipotle Chicken and Kale Rigatoni
In this Rigatoni recipe we feature a healthy dose of kale and other vegetables along with pouched chicken. You can use canned chipotles in adobo for this recipe as well. View the full recipe below!
Tip: Some options for replacement in case you can't find them include ground chipotle powder as well as the actual dried chipotles – you'll need to soak these in water.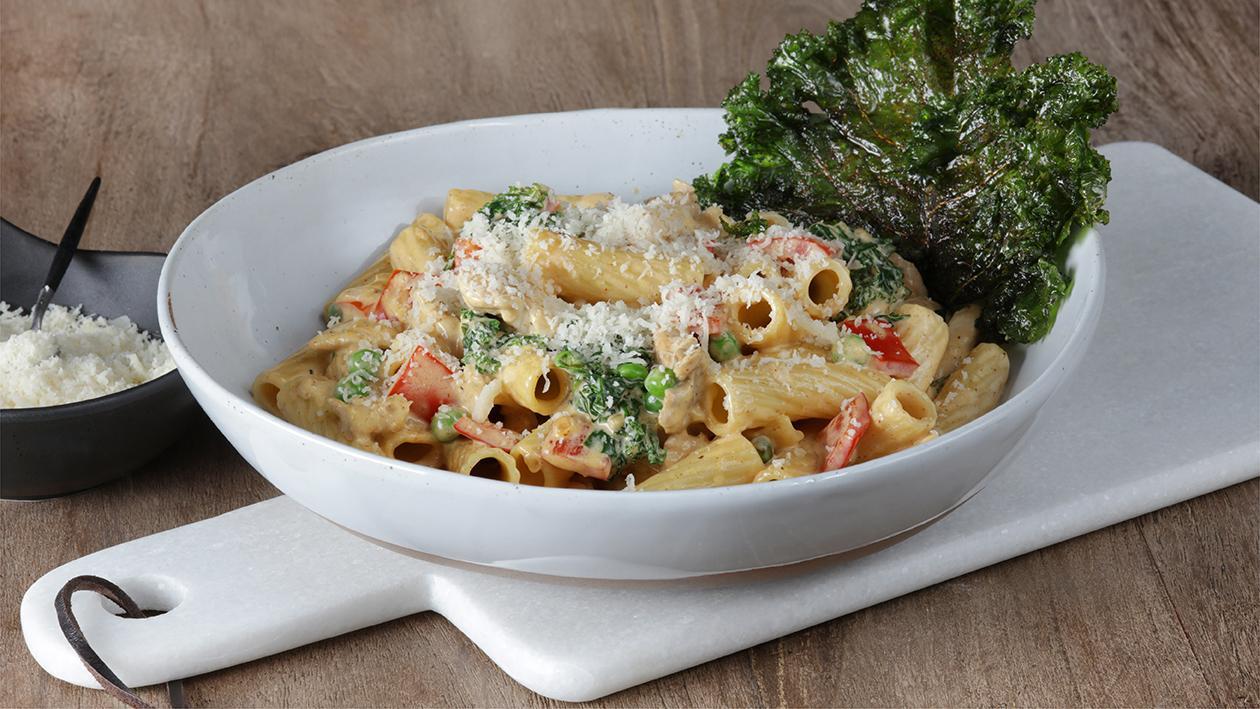 Ingredients
Chipotle Sauce:
Chipotles in adobo, seeds removed

250 g

Knorr Concentrated Chicken Bouillon (6x1L)

30 ml
Pouched Chicken:
Finish off the Pasta:
Capsicum red, cubes

300 g

Kale leaves, blanched

200 g
Garnish:
Cheese, Parmesan, Grated

300 g

Kale leaves, deep-fried

5 pc
Preparation
Chipotle Sauce:

Combine all the ingredients in the blender or mini-food processor. Mix until you have smooth creamy sauce. Taste and adjust the spice level based on your preference.
Use immediately or refrigerate until ready to use.

Pouched Chicken:

Dissolve Knorr Chicken Stock Powder in water and pouch chicken breast whole on medium heat for 10 minutes
Remove chicken and set aside to rest before shredding chicken for the pasta dish.

Finish off the Pasta:

Sauté onions and capsicum in olive oil until soft
Add shredded pouched chicken.
Add frozen peas & cooked pasta before adding the Chipotle sauce.
Thin down the sauce a little with pasta water.

Garnish:

Sprinkle pasta with parmesan cheese and fried kale leave.

Chefs Advice:

This chipotle sauce is a perfect blend of creamy, tangy and spicy. You can adjust the level of spiciness according to your own preference; if you want it super spicy add several chipotles. If you prefer a milder sauce, then just add one or even half. If you're not sure, taste a bit of the adobo sauce to gauge the heat level. Also, if it turns out too spicy you can always add more yogurt or crema to reduce the heat.