Crab Ravioli's Recipe by Chef Stefano Ghielmetti
Designed for professional chefs, check out this Crab Ravioli's recipe, by Chef Stefano Ghielmetti: cooking instructions broken into components, full list of professional ingredients, chefs' preparation secrets. Master this recipe with products like: Knorr Mise en Place Red Pesto and Knorr Tomato Pronto.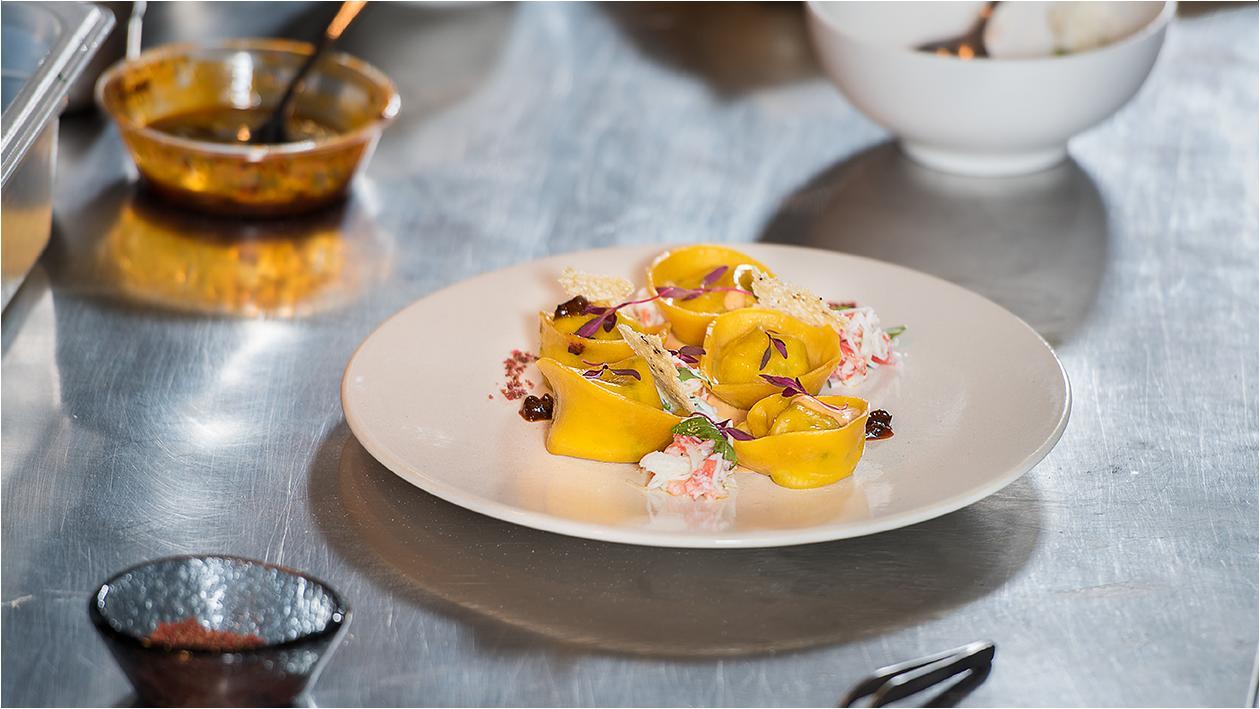 Ingredients
Pasta:
Filling:
Sauce:
Mirepoix( Carrot,celery,onion)

400 g

Mix Fresh Herbs, chopped

50 g
Preparation
Pasta:

Pile flour and semolina in a fountain, pour eggs and yolks in the middle and start working the dough until you achieve a smooth surface.
Add a splash of water if pasta dough is too dry. Form a ball-shaped dough. Cover in cling film and rest in the chiller for about 1 hour.

Filling:

Strain the ricotta cheese in a fine colander.
Blanch spinach and rocket for 10 seconds in boiling water then cool them down in ice water and squeeze very well. Then combine all the ingredients (crab meat, ricotta, parmesan, egg) together. Rest in the fridge.

Sauce:

Cook down the shells with the mirepoix until the onion is translucent.
Add the Knorr Mise en Place Red Pesto and cook it for 3 minutes. Add Knorr Tomato Pronto, cover with water and slowly simmer it for about an hour.
Pass through a fine chinois and reduce the liquid by half.
Add cream and keep reduce the sauce by half.