Jareesh (Crushed wheat)
Jareesh (Crushed wheat) is traditional dish from Saudi Arabia and a must-have for your Sahoor menu. It is very filling and full of energy to help your guests cope with the day of fasting ahead. Knorr Concentrate Chicken Bouillon boosts your dish with real chicken flavours. Serve with a classic cup of Lipton Yellow Label Tea. See the complete recipe below.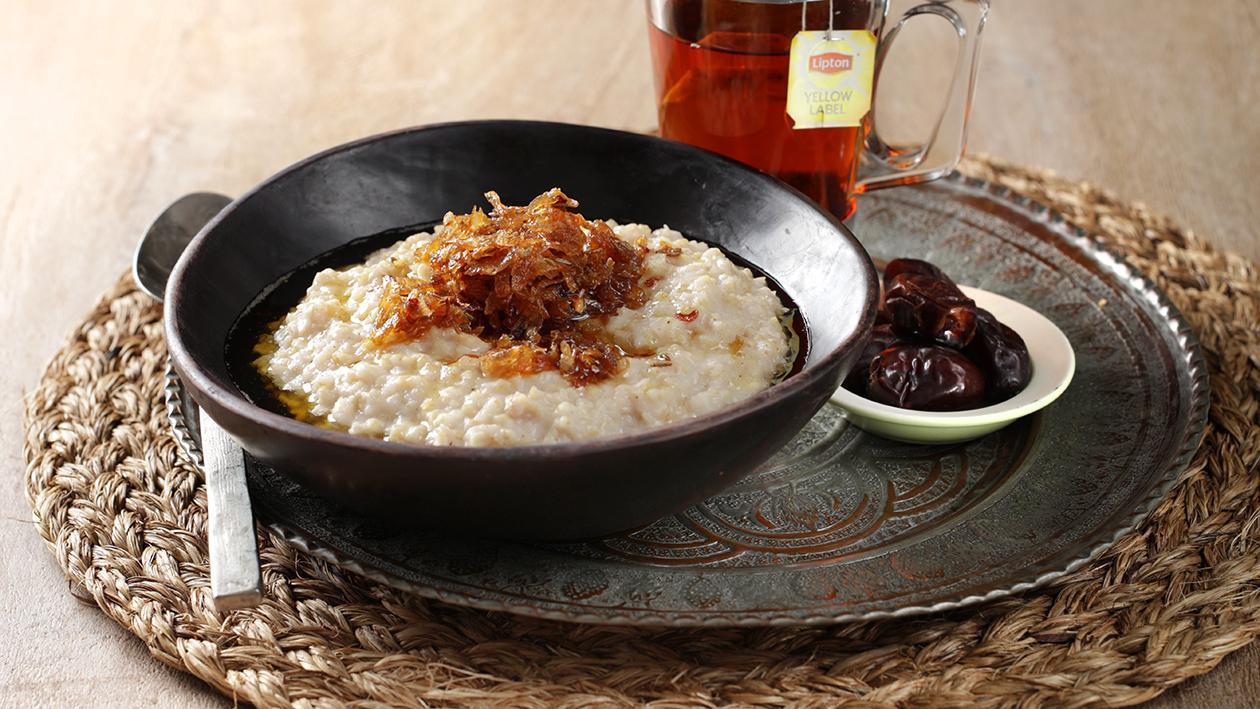 Ingredients
Jareesh:
Jareesh crushed wheat

700 g

Knorr Corn Oil (4x5L)

100 ml

Onion, finely chopped

170 g

Knorr Chicken Stock Cubes

24 g

Knorr Concentrated Chicken Bouillon (6x1L)

45 g
Garnish:
Plate:
Preparation
Jareesh:

Wash the rice and Jareesh till water is clear. Heat oil in a large pot, cook the onions till soft, add the rice and Jareesh and coat in the hot oil. Add the cinnamon and water then dissolve in the Knorr Chicken Stock Cubes.
Cover with a lid and let it cook till all water is absorbed about 2 hours it will give you time to work on the all-important garnish witch is essential to this recipe.
Once the Jareesh has cooked stir in the Knorr Concentrate Chicken Bouillon and yogurt, this is no easy task, you could use a cake mixer with a whisk attachment to make it easy, just don't overdo it a few seconds is enough

Garnish:

Heat the ghee over a low flame add the onion and stir every few minutes cook thill caramelized. Be patient and don't turn up the heat, the onions will burn.
Add the spices and toast for a few minutes, turn of the heat and stir in the Knorr Lime Seasoning Powder.

Plate:

Plate the Jareesh and pour over the caramelized onions. Serve with a hot cup of Lipton Yellow Label Tea.