Konafa Chocolate Tart
Designed for professional chefs, check out this Konafa Chocolate Tart recipe: cooking instructions broken into components, full list of professional ingredients, chefs' preparation secrets. Master this recipe with products like: Carte D'or Chocolate Topping.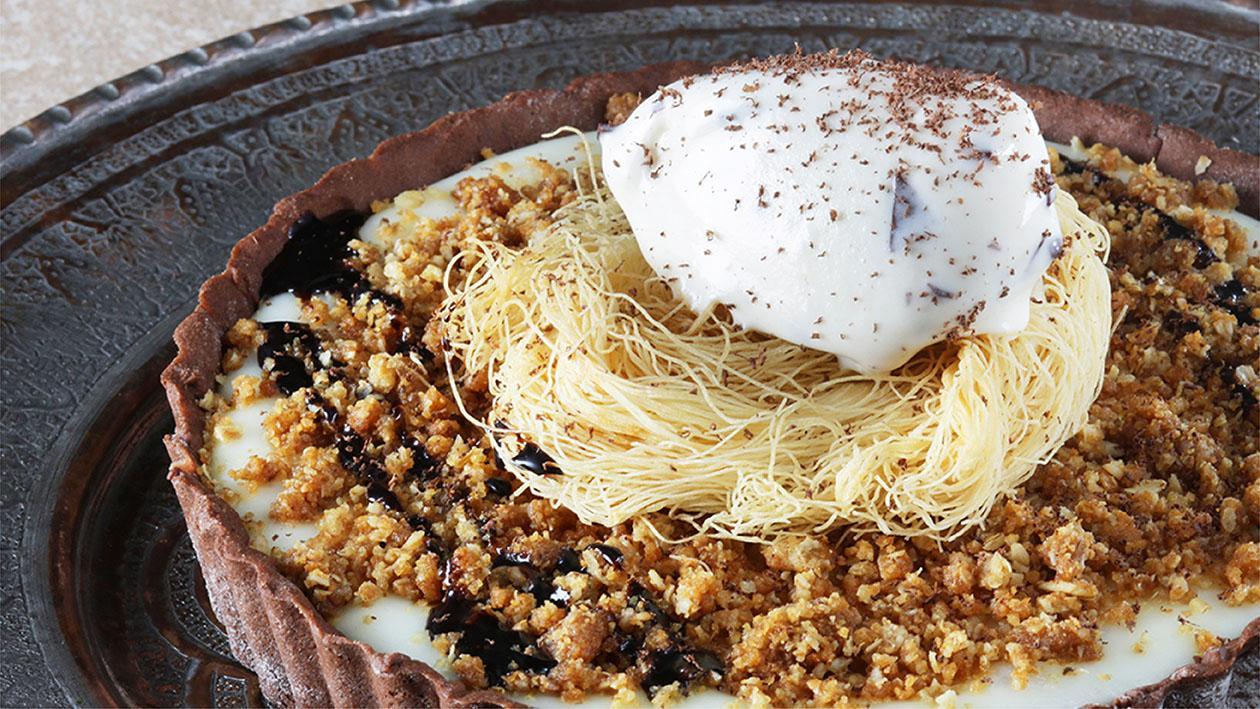 Ingredients
Cooking the Cheese:
Cheese mozzarella, low salt

600 g
The Crust:
Chocolate tart shell, cooked

10 pc
The Syrup:
Plating:
Dark, chocolate shaving

50 g
Preparation
Cooking the Cheese:

Soak grated cheese overnight in cold water.
Remove from water and drain well.
Put in medium saucepan and on low heat start cooking while stirring constantly , add the sugar.
Meanwhile, bring ¾ of the milk to a simmer, make a slurry with the rest of the milk and the corn flour, add to the simmering milk and thicken.
While cheese is melting, add the milk mixture to cook the cheese to a soft elastic texture.
Add the rose water.
Remove from heat and fill in chocolate tart shells.

The Crust:

Brush the konafa dough and roll it, bake in oven until golden brown, remove and sprinkle with icing sugar, set aside for garnish.
Now for the crust: Crush oats biscuits then add the rose water and melted butter. Place on top of tart - bake the tart for 10 minutes at 180°C.
Remove from oven and top it with konafa dough.

The Syrup:

Bring water and sugar to a simmer until sugar is completely melted, add lemon juice and rose water, stir and remove from heat, cool down and use to drizzle on top of the ready tart.

Plating:

Top with vanilla ice cream and Carte D'or Chocolate Topping.