Middle Eastern Breakfast, 3 New Falafels
Designed for professional chefs, check out this 3 New Falafels recipes: cooking instructions broken into components, full list of professional ingredients, chefs' preparation secrets.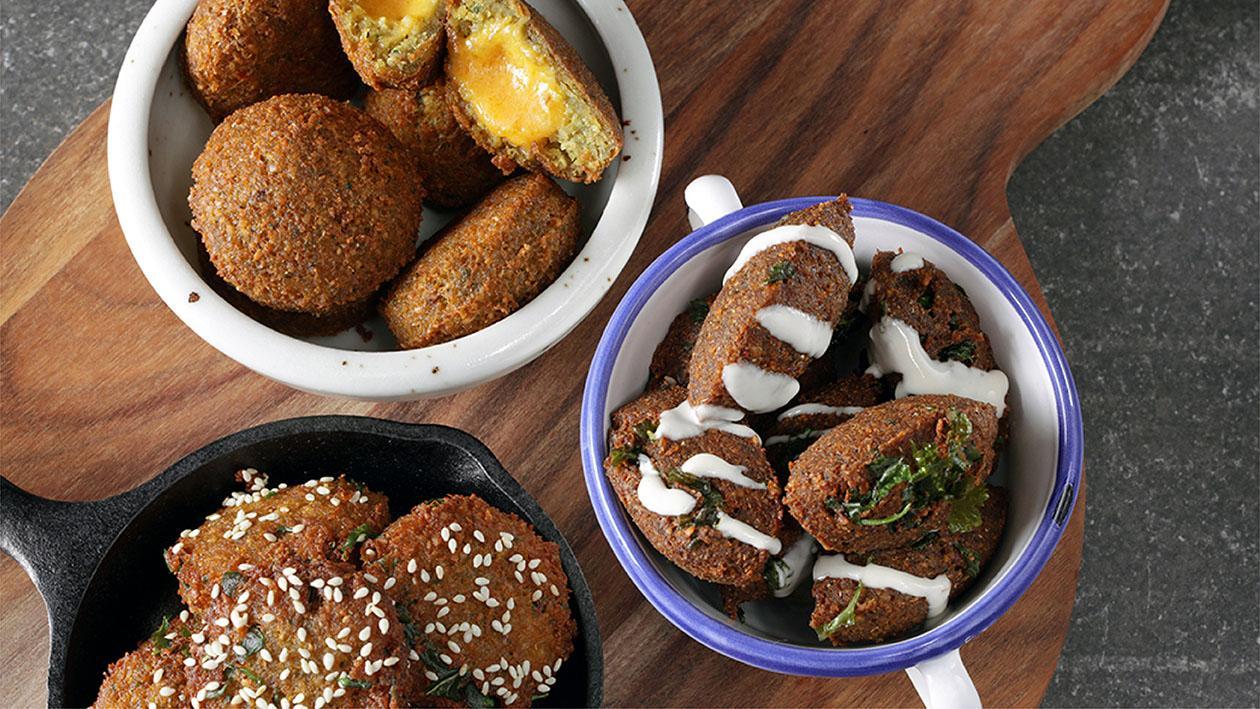 Ingredients
Falafel Mix:
Broad beans, split and soaked

1 kg

Parsley, finely chopped

40 g
Cheese Stuffed:
Cheddar cheese, cubes

100 g
Indian Spiced.
Coriander leaves, chopped

10 g
Sweet Potato:
Sweet Potato, grated

300 g

Kale, blanched and chopped

50 g
Preparation
Falafel Mix:

Blend all ingredients together in a food processor, add some water to form a paste like texture.
Separate into 3 portions. 2 portions of 750g and 1 portion of 375g (this one is for the sweet potato).

Cheese Stuffed:

Take one batch of (750g) mix and fill the falafel shaper halfway, then add the cheese cube and cover with more falafel mix.
Fry in oil at 180°C till golden brown, basically when it floats it's ready.

Indian Spiced.

Take the second mix (750g) and stir in the curry paste, curry leaves and coriander leaves.
Shape the falafels and fry.

Sweet Potato:

Take the final mix (350g) and stir in the sweet potato and kale. Shape the falafel and fry.

Plating:

Arrange the falafels in a platter and serve with tahini dip.