Spaghetti Carbonara
Designed for professional chefs, check out this perfect Spaghetti Carbonara recipe: cooking instructions broken into components, full list of professional ingredients, chefs' preparation secrets. Master this recipe with products like: Knorr Hollandaise Sauce and Knorr Mise en Place Basil.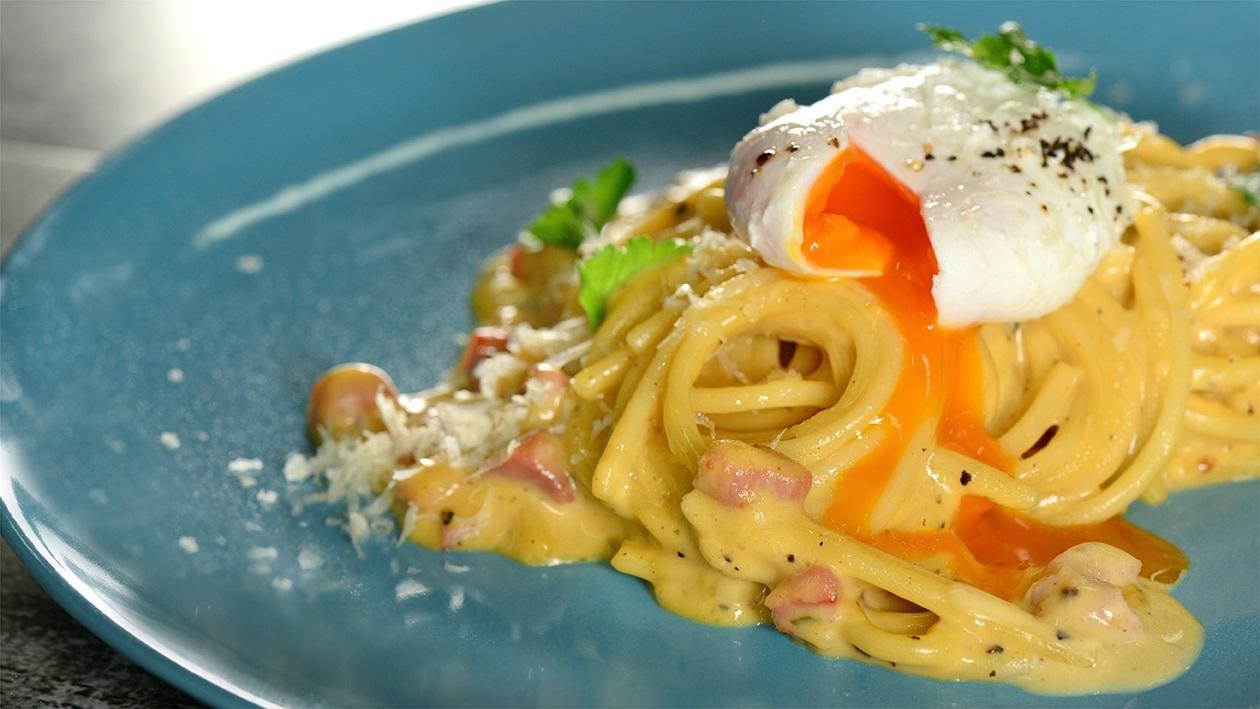 Ingredients
Spaghetti Carbonara:
Spaghetti No.7 Pasta

1000 g

Garlic, finely chopped

20 g

Pecorino cheese, grated

400 g

Cheese, parmesan, grated

250 g

Knorr Mise en Place Basil (2x340g)

20 g
Preparation
Spaghetti Carbonara:

Start by pouching 10 eggs until soft, reserve them in chilled water until pasta and sauce is cooked, once ready a quick flash in hot water before serving will bring the temperature back up again.
With a whisk start beating 10 eggs in a bowl. Add the Pecorino cheese, Knorr Hollandaise Sauce and mix all with freshly milled pepper.
While the pasta cooks take a frying pan for the onions and diced turkey bacon and start to fry them until brown and crisp.
Once the Bucatini pasta is cooked, drain and add it to the frying pan with the bacon.
Pour over the beaten eggs, Knorr Hollandaise Sauce and cheese, mix all with a fork.
Re-heat the pouched eggs and place on top of the pasta.
Serve hot with extra milled black pepper and grated Parmigiano cheese.

Chefs Tip for Authenticity:

To keep the recipe authentic, use Pancetta rather than turkey in the recipe.