Spicy Tomato Soup with Dahl Pakora
Designed for professional chefs, check out this Spicy Tomato Soup with Dahl Pakora recipe: cooking instructions broken into components, full list of professional ingredients, chefs' preparation secrets. Master this recipe with products like: Knorr Tomato Powder.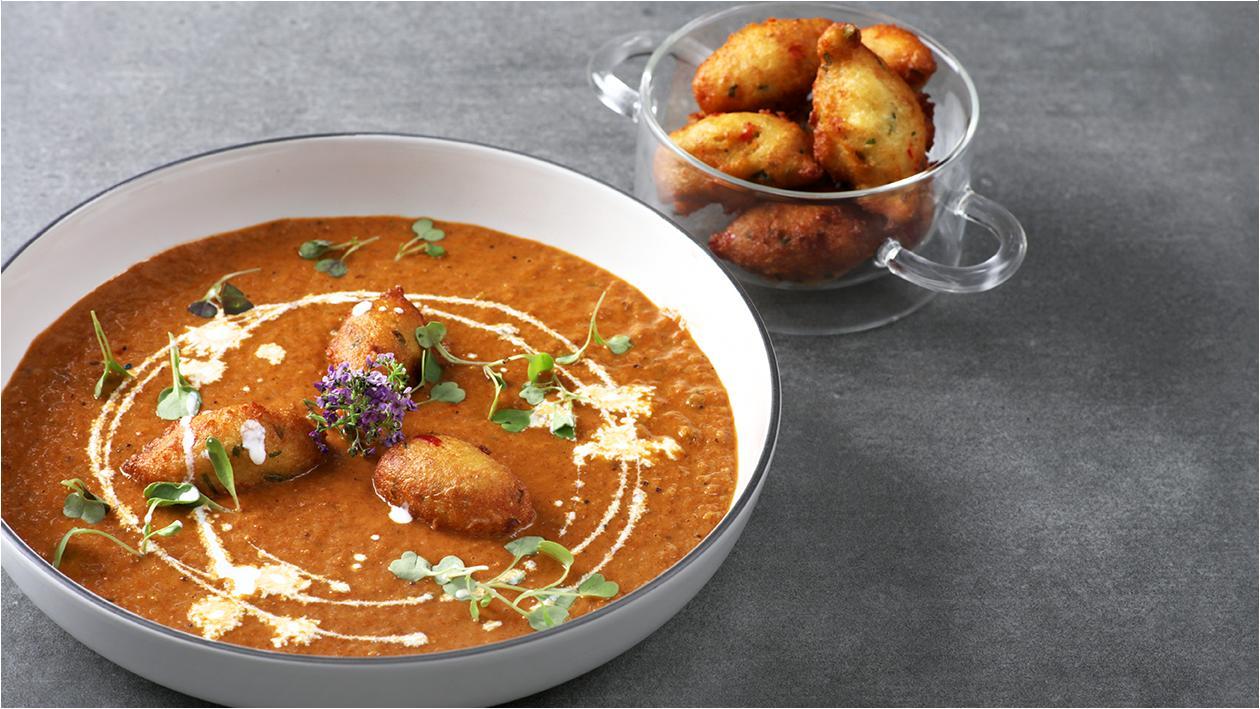 Ingredients
Making Pakora's:
Coriander leaves, chopped

2 g

Green chilli, chopped

2 g

Red capsicum, brunoise

40 g

Green Capsicum, brunoise

40 g
Creating the Soup:
Dry red chilli, copped

6 g

Chilli sweet green, chopped

350 g
Plating:
Coriander, leaves picked

3 g
Preparation
Making Pakora's:

Place the dahl in a container and cover with water. Leave over night to soften.
Next day drain off all the excess water, the dahl should have doubled in size. Place in a blender with the cumin seed, garlic, ginger, turmeric powder and water. Blend till smooth.
Stir through the salt coriander leaves, chilli pepper, red and green capsicum. Mix in thebaking powder, now rest for 30min.
Heat frying oil to 170°C. Using 2 spoons make quenelles and drop them in to the oil, let them cook till golden brown then remove and drain on paper towel.

Creating the Soup:

Heat the oil and sauté off the onions, once soft add the dry red chilli, cumin seeds, mustard seeds, asafoetida powder, curry leaves, sweet green chilli, curry base and salt then cook till soft and fragrant.
Remove from heat and place in a blender with the water, then blend till smooth. Return to the heat and simmer for 10min.
Whisk in the Knorr Tomato Powder and simmer for another 1 min, remove from heat and mix in the cream.

Plating:

Divide the soup up into bowls then garnish with the pakoras, cream and coriander leaves.
Serve with naan or roti.