Thai Chicken Satay Peanut Sauce
Traditional Thai chicken dish marinated in coconut milk and spices, then grilled and served with a delicious peanut sauce for dipping. Great menu item for room serves and cocktail functions. Soak the skewers to prevent burning.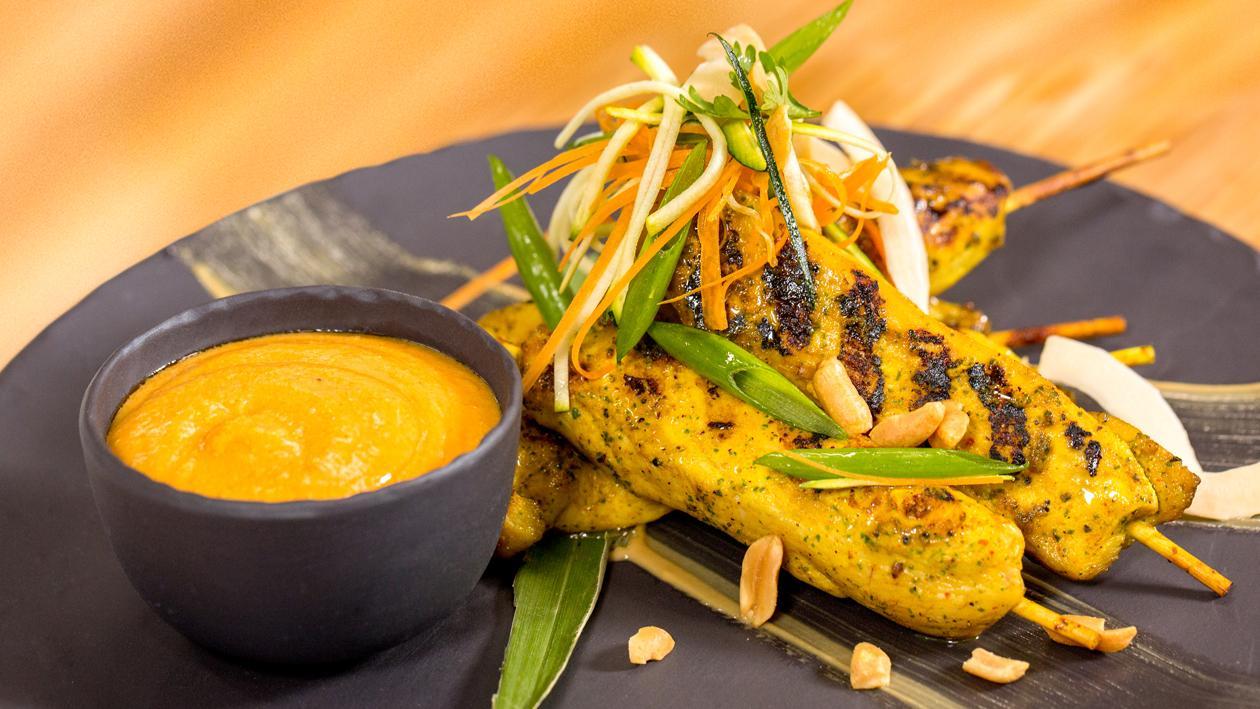 Ingredients
Chicken Marinade:
Chicken Breasts, sliced strips

3 kg

Knorr Concentrated Chicken Bouillon (6x1L)

40 ml

Thai red curry paste

30 g
Peanut Sauce:
Peanut butter, smooth

100 g

Ginger and Garlic Paste

30 g

Black pepper, ground

10 g

Coriander leaves, chopped

30 g
Grill:
Bamboo skewers, large soaked in cold water

50 pc
Garnish:
Preparation
Chicken Marinade:

In a small bowl, mix the coconut milk, Knorr Concentrated Chicken Bouillon, Knorr Oyster Sauce, red curry paste, brown sugar and spices except the chicken. Slice the chicken into long, thin strips, about 5 cm long by 2 cm wide, and add to marinade. Turn chicken to coat, cover and refrigerate at least 4 hours or longer.

Peanut Sauce:

Meanwhile, prepare the peanut sauce. Add peanut butter and Knorr Concentrated Chicken Bouillon to the water then combined withJapanese soy sauceand Knorr Thai Sweet Chilli Sauce, honey, sugar,ginger and garlic in a small saucepan and whisk well.
Bring to a boil, reduce heat and cook until smooth, stirring constantly, about 5 minutes. Set aside to cool to room temperature.

Grill:

Prepare grill to high heat and thread marinated chicken onto soaked bamboo skewers. Place on grill and cook 2 to 3 minutes per side, or until cooked through.

Garnish:

Serve with lime wedges and peanut sauce and garnish with cilantro and peanuts.