Tomato, Walnut & Labneh Soup
Designed for professional chefs, check out this Tomato, Walnut & Labneh Soup recipe: cooking instructions broken into components, full list of professional ingredients, chefs' preparation secrets. Master this recipe with products like: Knorr Tomato Powder and Knorr Vegetable Powder.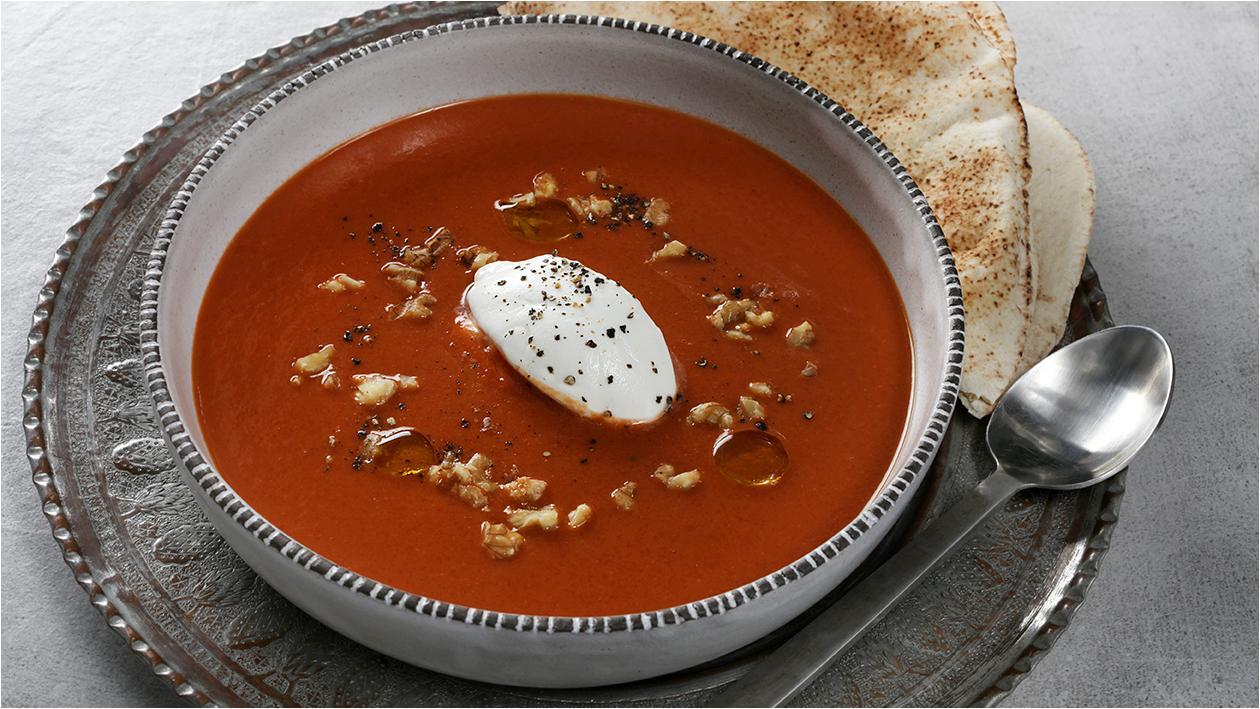 Ingredients
Roasting:
Garlic, whole cloves

40 g
Tomato Sauce:
Completing the Dish:
Preparation
Roasting:

Preheat the oven to 180°C. Wash and dry the capsicums. Rub with olive oil and roast in the oven with onion quarters, fennel seeds, cumin seeds and garlic.
Allow the garlic and onions to become golden brown before removing from the oven along with the spices.
The capsicums need to be nicely roasted and even a little black on the skin parts. After roasting, drop them into a mixing bowl and wrap them with clingfilm.
Allow the capsicums to sweat for 15 mins before removing the skins.

Tomato Sauce:

Bring 2 L water to a simmer, add Knorr Tomato Powder to create an excellent well-balanced tomato sauce.

Completing the Dish:

Add Knorr Vegetable Powder to 500ml simmering water.
Place the roasted vegetables and roasted walnuts into a blender and blend on high, add 200 ml Knorr Vegetable Powder stock and more if needed.
Strain the blended mixture into the tomato soup mixture.
Bring up to a simmer before whisking in the labneh.
Serve with whole wheat toasted bread and garnish with seeds.