There is something of an art to serving loose leaf tea. It's a sensory art and one that can be easily mastered with a bit of practice. And by learning how to serve rich, perfectly brewed loose leaf tea, you'll be able to wow guests with a new tea experience. 
Pure Leaf believes an amazing tea experience starts with selecting exceptional tea leaves. Once you have those exceptional tea leaves, you need to protect their unique qualities by storing them properly.
Give the tea leaves a good sniff. Good quality leaves will have a fresh, rich smell.
 Look for the provenance of tea leaves, where are they grown and how are they picked and treated after picking? Pure Leaf tea leaves, for example, are sourced from the finest tea estates globally. They are hand-picked at peak freshness, then gently rolled and dried to protect their aroma and freshness. 
Leaves should be intact and consistent in size.
Store tea leaves in airtight containers, away from direct sunlight, to retain their freshness.
Tea leaves can absorb other aromas, so store them away from any pungent herbs, spices or food items.
Organise and label your tea containers so you can easily find what you need. 
Pure Leaf has several tips to help you create the perfect loose tea serving:

Get guests excited about the tea experience by inviting them to see and smell the leaves before they choose. Pure Leaf has six different varieties of loose leaf teas and infusions to entice guests with.
Depending on the tea blend, you will require 1-2 teaspoons of tea leaves per cup of tea. Leaves will expand while brewing so use an infuser large enough to allow for this.
For flavourful tea you need the correct water temperature and brewing time:

Black tea:  Water temp. 100°C, brewing time 3 mins
Green tea: Water temp. 80°C, brewing time 3 mins
Herbal tea: Water temp. 100°C, brewing time 4 mins

There's theatre to the brewing process, maximise this for a memorable guest experience. Serve the tea in a transparent teapot with an infuser that allows your guests to enjoy the dancing tea leaves. Give control of the brewing process to guests with hourglass timers that provide excitement and intrigue.
Watch this video to find out how to make the perfect cup of Pure Leaf Earl Grey.

How to serve perfect tea
Download our Teaware Catalogue to see how you can further enhance your tea experience.
Download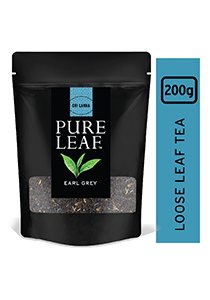 Pure Leaf Earl Grey Tea for professional kitchens and offices: Buy in a pack of 200G x 4 from Unilever Food Solutions and check our special offers for real cost savings! See all product details with pricing.
Find out more