Slightly caffeinated as a result of a natural oxidation, our Asian White & Rose Tea awakens your senses and gently carries you away to relaxation. Ideal for afternoons and evenings.
When white tea leaves and rose petals meet, the most exquisite and delicate blend is created.
The fresh bouquet of Asian White & Rose Tea gives refined floral and lychee notes, with a natural sweetness created by the slight oxidation of the youngest tea buds (called Silver Tips) and long leaves. Naturally withered and air-dried under the sun, white tea leaves are delicate and should be brewed at a slightly lower temperature (90ᵒ Celsius, below boiling point) than dark teas to avoid scalding them.
Best paired with delicate textures and flavours, Asian White & Rose Tea needs to complement a meal that will return the 'flavour'. The pairing should mutually enhance each other's character, and not wash away the delicate aromas of the tea.

If you are serving tea in a crescendo fashion thoughout the meal, white tea can be served at the beginning with a light cucumber salad drizzled with olive oil, as the customer works his way up to darker teas.
For the main course, opt for a steamed fish with Basmati rice to complement the delicate flavours of the infusion.
Asian White & Rose will highlight delectable Arabic desserts, such as Halawat el Jibn. Their flavours seem to match exquisitely as roses meet in a fusion of aromas. This tea blend is also pleasant and refreshing with fresh fruits.

For those who prefer to end their meal on a savoury note, they will find harmony in a slice of French Brie cheese, whose unctuous texture will subtly blend with a cup of Asian White & Rose at a slightly cooler temperature.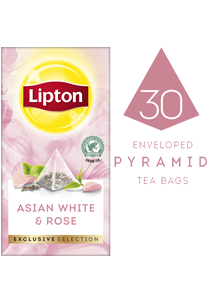 Hand-picked young tea buds known as silver tips, are blended with long tea leaves and delicate rose petals. Enjoy subtle and refined floral notes.
Find out more

Related Products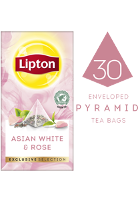 Recommended price (including VAT)
Product not available
Product added to cart: Lipton Asian White & Rose (6x30 pyramid tea bags)