Every year, a few must-try dishes seem to come out of nowhere and capture the whole world's imagination. We're going to take a look at the foods that are all the rage at the moment, and then pair them with, perhaps the most exciting trend of the lot.

This year, it's all about tea, with many of the world's top restaurants offering elaborate tasting menus with fine tea pairings. Because teas are so different and versatile, this is not only brilliant from a culinary perspective; it also provides diners with an interactive, conversational element that adds a new dimension to the dining experience. 


Poke bowl with Shrimps and Earl Grey

Sometimes it's the unlikely pairings that work the best, and it doesn't get much more unlikely than these two. Poke bowls have emerged from Hawaii to take over menus across the globe. They combine rice, salad, and sashimi in a delicious, fresh and filling meal. It just so happens that poke bowls - or any sushi for that matter - happen to pair exceptionally well with the classic Earl Grey tea. There's something captivating about the mix of punchy umami with the delicate floral flavors of the tea.

Oysters and Gunpowder Green Tea 
Oysters are a perennial favorite, owing a lot of their enjoyment to time and place. It's impossible not to think of the Ocean when you're enjoying a fresh oyster. Tea is similar, as it too has a strong association with its provenance. Regardless of this coincidence, Oysters and green tea work, because they both deliver a pure and refreshing taste. Make sure to serve your green tea as cold as the oysters.


Date & Coconut Truffle and Peppermint Tea
Chocolate Truffles have emerged from a bygone era to become a favorite treat wherever they're enjoyed. Only, today there's more to them than just the ganache with dusting, than in France in the 1850's. The sweet dates and coconut give a luxurious twist on an already indulgent trend, and this rich decadence is perfectly balanced by the freshness of the peppermint tea.
.

BBQ Pulled Beef burgers and Black Tea with Vanilla

The humble burger is enjoying a renaissance period, with some exciting variations from the Umami to the Tuna burger. Another good example that is on trend is the BBQ Pulled Beef Burger. With its tender, rich and smoky profile, it pairs exceptionally well with a Vanilla Black Tea.

Zucchini Fritters with Yogurt Sauce and Camomile Tea
With an increasing number of people turning to vegetarianism, Zucchini-based fries, bakes and even spaghetti have become hugely popular. The most recent addition is the Zucchini fritter. This dish is very floral, and when combined with the yoghurt and honey sauce, pairs exceptionally well with the sweet, floral taste of Camomile tea.  


Explore Pure Leaf's product range of sustainable loose leaf tea to create more memorable tea experiences for your business.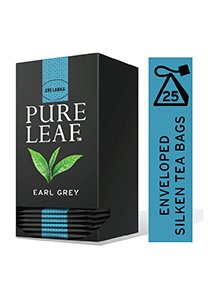 Pure Leaf Earl Grey Tea for professional kitchens and offices: Buy in a pack of 25 pyramid teabags x 6 from Unilever Food Solutions and check our special offers for real cost savings! See all product details with pricing.
Find out more