Need to shake off the stress but don't have the time to take a quick breather? Here's a list of things on your desk that can help the next time you're overwhelmed by an overflowing inbox.

1) Paper
Even the tidiest of us has a scrap of paper lying around. If it's covered in scribbles, find a few spare lines and write down what's worrying you. Next, scrunch it up into a tight ball, toss it into the recycle bin and feel better.
2) Stapler 
A burst of short, satisfying punches is all it takes. Though, just as with most things you do in your 9-to-5 life, proceed with care.
3) Potted Plant
Water your plant. This simple act of taking care of something else helps take stress off your mind.
4) Desk Calendar
Are the deadlines creeping closer? Circle a few important dates on your calendar – birthdays, anniversaries or a holiday – that act as rewards to look forward to.
5) Headphones
Place them on your head and even before you press 'Play', feel the rest of the world quietening down.
6) Cup
Brew a cup of Lipton Green Tea and feel lighter.
Related Products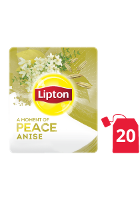 Recommended price (including VAT)
Product not available
Product added to cart: Lipton Herbal Infusion Anise (16x20 teabags)
Recommended price (including VAT)
Product not available
Product added to cart: Lipton Green Tea Lemon (16x20x1.6g)
Recommended price (including VAT)
Product not available
Product added to cart: Lipton Green Tea Mint (12x100 teabags)