Hellmann's Table Top Hot Sauce (12x95ml)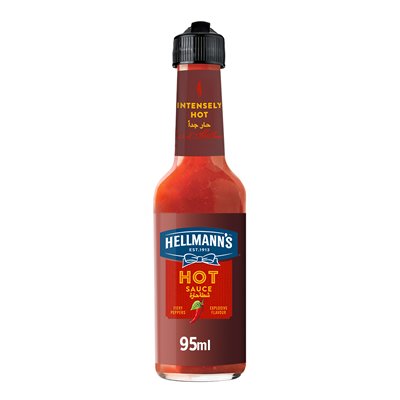 Total Price
53.55 AED
Recommended price (including VAT)
UFS Reward Points
54 Points
Preparation
• As per various recipe suggestions.
Storage
Ambient (Store in a cool and dry place) - If opened, store in the fridge - Do not freeze.
Tips
Hellmann's is now your one stop dressings partner for Front of House and Back of House solutions.
Benefits
• Extremely Hot
• Does not contain lard and derivatives
Allergen Information
Produced in a factory that contains EGGS, DAIRY, MUSTARD, CELERY and GLUTEN.
Shelf Life
12 Months. Open shelf life: 2 weeks.
Ingredients
Chili Pepper Liquid (60%), Water, Vinegar, Salt, Natural Jalapeno Flavor, Chili Pepper Extract, Thickener (Xanthan Gum), Preservative (Potassium Sorbate)
Description
Hellmann's Hot Sauce is made with 60% Hot Pepper Juice and has natural Jalapeño flavor. Hellmann's offers Front of House and Back of House dressing solutions for your business.


Nutrition Information

| Typical values | Per 100 g | Per 100 ml | Per portion |
| --- | --- | --- | --- |
| Energy kJ | 110.00 kJ | - kJ | 0.00 kJ |
| Energy kcal | 25.00 kcal | - kcal | 0.00 kcal |
| Protein | 0.60 g | - g | 0.00 g |
| Carbohydrate, by difference | 5.00 g | - g | 0.00 g |
| Carbohydrate including fibers | 0.00 g | - g | 0.00 g |
| Sugars, total | 4.00 g | - g | 0.00 g |
| Total lipid (fat) | 0.10 g | - g | 0.00 g |
| Fatty acids, total saturated | 0.000 g | - g | 0.000 g |
| Fatty acids, total monounsaturated | 0.000 g | - g | 0.000 g |
| Fatty acids, total polyunsaturated | 0.000 g | - g | 0.000 g |
| Fatty acids, total trans-monoenoic | 0.000 g | - g | 0.000 g |
| Cholesterol | 0.00 mg | - mg | 0.00 mg |
| Fiber, total dietary | 0.7 g | - g | 0.0 g |
| Calcium, Ca | - mg | - mg | 0 mg |
| Iron, Fe | - mg | - mg | 0.00 mg |
| Potassium, K | - mg | - mg | 0 mg |
| Sodium, Na | 1,000.00 mg | - mg | 0.00 mg |
| Vitamin A, IU | - IU | - IU | 0 IU |
| Vitamin C, total ascorbic acid | - mg | - mg | 0.0 mg |
| Salt (based on sodium) | - g | - g | 0.00 g |
| Water | - g | - g | 0.00 g |
| Ash | - g | - g | 0.00 g |

*% of Reference Intake of an average adult ({0}) 8400kj/2000kcal