Knorr Chicken Stock Cubes (6x120x8g)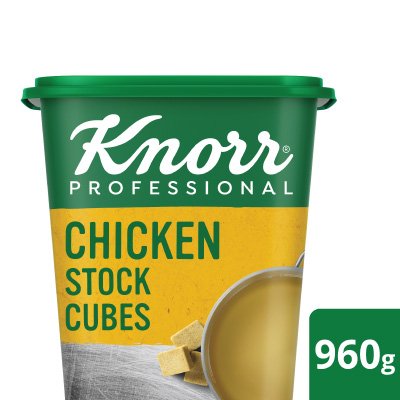 Total Price
198.45 AED
Recommended price (including VAT)
UFS Reward Points
378 Points
Preparation
Add the stock cube to half a litre of boiling water. Stir continuously and cook for 2 minutes.
Yield
120 Cubes makes 60 litres; makes 240 portions.
Storage
Ambient (Store in a cool and dry place), Max 30˚C.
Tips
To give your chicken extra flavour and colour, try grinding the cubes into a paste with your spices.
Benefits
• Dissolves easily
• Re-sealable, stackable container for guaranteed freshness • Neutral colour makes it more versatile
Allergen Information
Contains Egg, Celery, Soya and Dairy products.
Ingredients
Salt, Hydrogenated Palm Fat, Corn Starch, Flavor Enhancers (Mono Sodium Glutamate E621, Disodium Inosinate E631, Disodium Guanylate E627), Sugar, Onion Powder, Nature Identical Chicken Flavors, Spices (Cinnamon), Caramel Color (E150d), Spice Oleoresins (Curcuma,black Pepper, Garlic,ginger, Clove) , Dried Chicken Meat
Description
Knorr Chicken Stock Cubes are a must for almost any rice dish containing chicken, from Biryani to Kabsa. Made with carefully selected herbs and spices, it will enhance the natural flavour of your fresh ingredients.


Nutrition Information

| Typical values | Per 100 g | Per 100 ml | Per portion |
| --- | --- | --- | --- |
| Energy kJ | 1,013.00 kJ | - kJ | 0.00 kJ |
| Energy kcal | 243.00 kcal | - kcal | 0.00 kcal |
| Protein | 5.00 g | - g | 0.00 g |
| Carbohydrate, by difference | 18.00 g | - g | 0.00 g |
| Carbohydrate including fibers | - g | - g | 0.00 g |
| Sugars, total | 6.00 g | - g | 0.00 g |
| Total lipid (fat) | 20.00 g | - g | 0.00 g |
| Fatty acids, total saturated | 13.000 g | - g | 0.000 g |
| Fatty acids, total monounsaturated | 0.000 g | - g | 0.000 g |
| Fatty acids, total polyunsaturated | 0.000 g | - g | 0.000 g |
| Fatty acids, total trans-monoenoic | 0.100 g | - g | 0.000 g |
| Cholesterol | - mg | - mg | 0.00 mg |
| Fiber, total dietary | 0.4 g | - g | 0.0 g |
| Calcium, Ca | - mg | - mg | 0 mg |
| Iron, Fe | - mg | - mg | 0.00 mg |
| Potassium, K | - mg | - mg | 0 mg |
| Sodium, Na | 20,270.00 mg | - mg | 0.00 mg |
| Vitamin A, IU | - IU | - IU | 0 IU |
| Vitamin C, total ascorbic acid | - mg | - mg | 0.0 mg |
| Salt (based on sodium) | - g | - g | 0.00 g |
| Water | - g | - g | 0.00 g |
| Ash | - g | - g | 0.00 g |

*% of Reference Intake of an average adult ({0}) 8400kj/2000kcal