Lipton Fresh Brewed Ice Tea (4x24 pouches)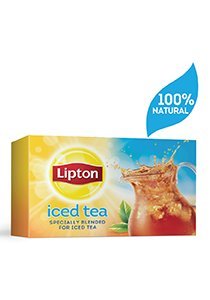 Lipton Fresh Brewed Ice Tea (4x24 pouches)
Packaging
Quantity
All product information
Nutrition and allergens
Allergen Information
None
Nutrition Information
| Typical values | Per 100 g | Per 100 ml |
| --- | --- | --- |
| Energy kJ | 4.00 kJ | - kJ |
| Energy kcal | 1.00 kcal | - kcal |
| Protein | 0.50 g | - g |
| Carbohydrate, by difference | 0.00 g | - g |
| Carbohydrate including fibers | - g | - g |
| Sugars, total | 0.00 g | - g |
| Total lipid (fat) | 0.00 g | - g |
| Fatty acids, total saturated | 0.000 g | - g |
| Fatty acids, total monounsaturated | 0.000 g | - g |
| Fatty acids, total polyunsaturated | 0.000 g | - g |
| Fatty acids, total trans-monoenoic | 0.000 g | - g |
| Cholesterol | 0.00 mg | - mg |
| Fiber, total dietary | 0.0 g | - g |
| Calcium, Ca | - mg | - mg |
| Iron, Fe | - mg | - mg |
| Potassium, K | - mg | - mg |
| Sodium, Na | 0.00 mg | - mg |
| Vitamin A, IU | - IU | - IU |
| Vitamin C, total ascorbic acid | - mg | - mg |
| Salt (based on sodium) | - g | - g |
| Water | - g | - g |
| Ash | - g | - g |
*% of Reference Intake of an average adult (8400kj/2000kcal)
Key product information
Description
Iced Tea is the fastest-growing non-alcoholic beverage. It's made from real tea leaves and is known for a better taste profile. Lipton® Fresh Brewed Iced Tea is made with a special blend of real tea leaves for a consistently delicious, fresh taste.
Usage information
Preparation
• Recommend using Bunn brewing machine model TB3A for high volumes
• For low volumes manual preparation method can be used:
(1) Add 1.5 liters of water to a pot & bring to a boil
(2) Place one tea pouch in pot & brew for 3-5 minutes
(3) Remove tea pouch and add 1.5 litres of lukewarm or cold water
Benefits
Rainforest Alliance Certified™
Storage
Store in a cool, dry place away from detergents, soap and products with heavy fragrances.