Pure Leaf Camomille 20 Pyramid Tea Bagsx6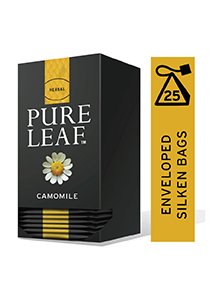 Preparation
• Brewing Instructions/1 Tea Bag: 100˚ Celcius 4 mins.
Storage
Ambient (Store in a cool and dry place away from direct sunlight and moisture) - 25°C.
Tips
Store in cool and dry place away from strong odours.
Benefits
• Camomile has been used for centuries as a mild and relaxing sleep aid.
Description
If your guests want something to soothe their tired mind, they'll love Pure Leaf's Tea infused with Chamomile, which is double chambered to infuse better and release full flavour. The tea bags are packaged in envelopes, so you get the same crisp taste and aroma - from the first tea bag and the last.


Nutrition Information

| Typical values | Per 100 g | Per 100 ml | Per portion |
| --- | --- | --- | --- |
| Energy kJ | 17.00 kJ | - kJ | 0.00 kJ |
| Energy kcal | 4.00 kcal | - kcal | 0.00 kcal |
| Protein | 0.50 g | - g | 0.00 g |
| Carbohydrate, by difference | 0.50 g | - g | 0.00 g |
| Carbohydrate including fibers | - g | - g | 0.00 g |
| Sugars, total | 0.50 g | - g | 0.00 g |
| Total lipid (fat) | - g | - g | 0.00 g |
| Fatty acids, total saturated | - g | - g | 0.000 g |
| Fatty acids, total monounsaturated | - g | - g | 0.000 g |
| Fatty acids, total polyunsaturated | - g | - g | 0.000 g |
| Fatty acids, total trans-monoenoic | - g | - g | 0.000 g |
| Cholesterol | - mg | - mg | 0.00 mg |
| Fiber, total dietary | - g | - g | 0.0 g |
| Calcium, Ca | - mg | - mg | 0 mg |
| Iron, Fe | - mg | - mg | 0.00 mg |
| Potassium, K | - mg | - mg | 0 mg |
| Sodium, Na | - mg | - mg | 0.00 mg |
| Vitamin A, IU | - IU | - IU | 0 IU |
| Vitamin C, total ascorbic acid | - mg | - mg | 0.0 mg |
| Salt (based on sodium) | - g | - g | 0.00 g |
| Water | - g | - g | 0.00 g |
| Ash | - g | - g | 0.00 g |

*% of Reference Intake of an average adult ({0}) 8400kj/2000kcal