Asian Chicken Lettuce Cups
Designed for professional chefs, check out this Asian Chicken Lettuce Cups recipe: cooking instructions broken into components, full list of professional ingredients, chefs' preparation secrets. Master this recipe with products like: Knorr Professional Oyster Sauce and Knorr Chicken Stock Powder.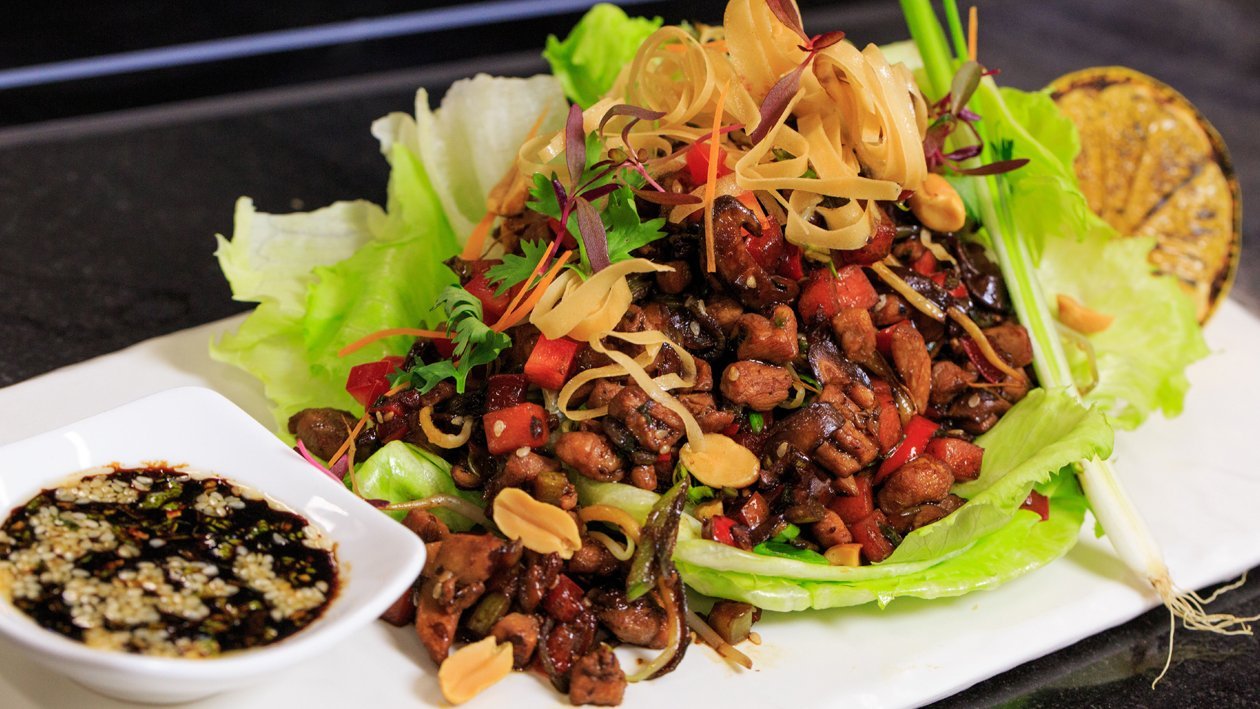 Ingredients
The Sauce:
Coriander leaves, chopped

10.0 g

Roasted Sesame Seeds

10.0 g
The Cups:
Chicken thighs, boneless, diced

1.0 kg

Red bell pepper, diced

150.0 g

Sugar snap peas, diced

150.0 g

Ginger and Garlic Paste

20.0 g

Mung beans sprouts, halved

80.0 g

Shitake mushroom, caps sliced

60.0 g

Spring onions sliced

30.0 g

Peanuts, roasted crushed

50.0 g

Iceberg Lettuce Leaves

1.0 kg
Preparation
The Sauce:

Combine all the ingredients in a bowl and set aside. Stir again just before using.

The Cups:

Heat 2 tablespoons oil in a skillet over high heat. Add the chicken and stir-fry until cooked through, about 3 minutes. Add the carrot, celery, bell pepper, peas and red onion and stir-fry for about 3 minutes.
Add the ginger, garlic, sprouts and shiitakes. Add 1/4 quantity of the prepared sauce and cook until thickened, about 30 seconds, scraping up any browned bits. Transfer the stir-fry to a bowl; top with the scallions and peanuts.
Wipe out the skillet. Heat the remaining 4 tablespoons oil over high heat. Fry the wontons until golden and crisp, about 15 seconds per side. Transfer to paper towels and season with Knorr Chicken Stock Powder.
Fill the lettuce leaves with the stir-fry. Sprinkle with sesame seeds. Crumble the wontons on top or serve alongside. Serve with the remaining sauce.