Baked Crusted Fish With Lemongrass Cream Sauce
Add a twist on flavour and texture to this menu staple of fish in cream sauce. The cream sauce is lightly scented with lemongrass and kaffir for a Southeast Asian twist. The fish is lightly coated with mayonnaise before breaded to help retain its moisture while cooking or being held for service for delivery.
Main Courses
Seafood Dishes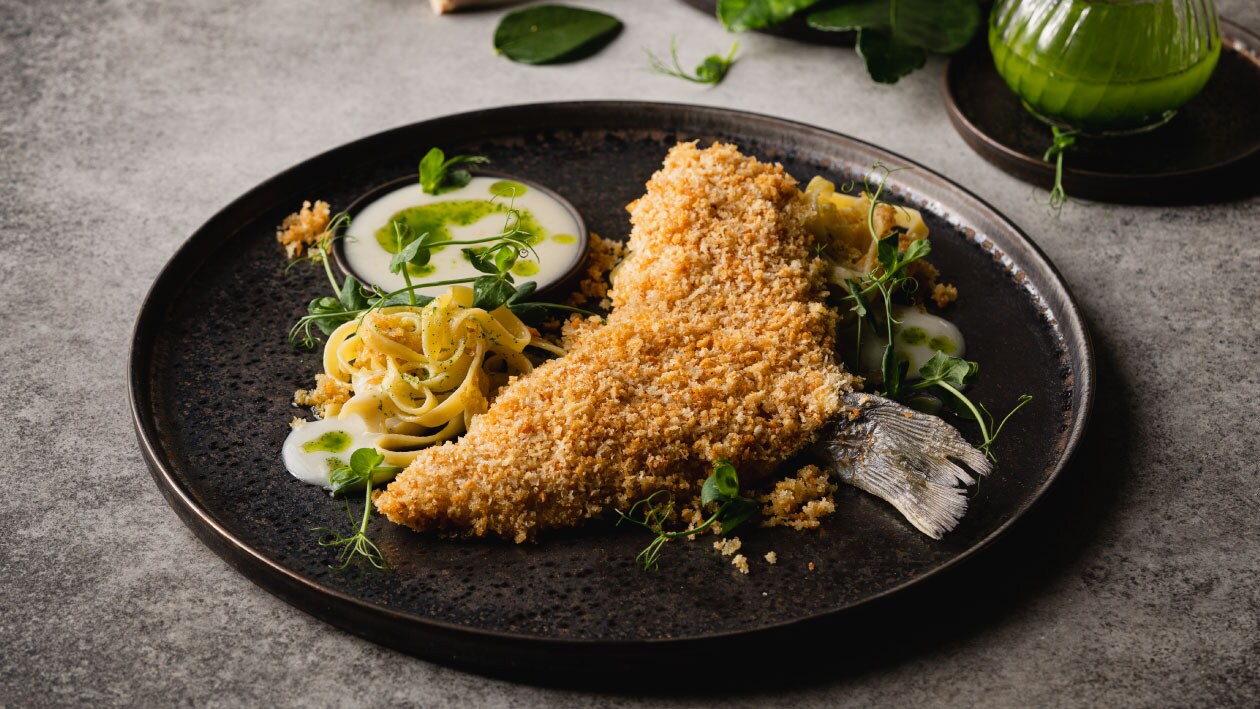 Ingredients
Seasoning Mix:
Ground white pepper

3.0 g
Topping:
Panko breadcrumbs, toasted

300.0 g

Parsley, finely chopped

30.0 g

White fish fillet or salmon fillet

1.5 kg
Sauce:
Kaffir lime leaves

5.0 pc

Unsalted butter, cold

45.0 g
Preparation
Seasoning Mix:

Combine the ingredients for the seasoning mix.
Season the fish fillets with seasoning mix. Let it stand for a few minutes.
Pre-heat oven to 350°F.

Topping:

Combine the panko breadcrumbs and the chopped parsley.
Spread the Hellmann's Classic Mayonnaise on top of the fish.
Bake the fish for 15-20 minutes or until cooked through.

Sauce:

Combine all of the ingredients in a sauce pot (except for parsley and butter).
Bring to a simmer and let it cook for at least 20 minutes to infuse all the flavour.
Taste and adjust seasoning of the sauce.
Remove the lemongrass and the kaffir lime leaves. Add the parsley leaves to the sauce.
Using hand blender, puree the sauce until smooth.
Add the cold butter gradually to emulsify with the sauce.
Serve the baked fish with the parsley sauce.