Designed for professional chefs, check out this Beef Brisket with Mango Salsa Criolla recipe: cooking instructions broken into components, full list of professional ingredients, chefs' preparation secrets. Master this recipe with products like: Knorr Aromat, Knorr Beef Flavoured Powder and Knorr Lime Seasoning.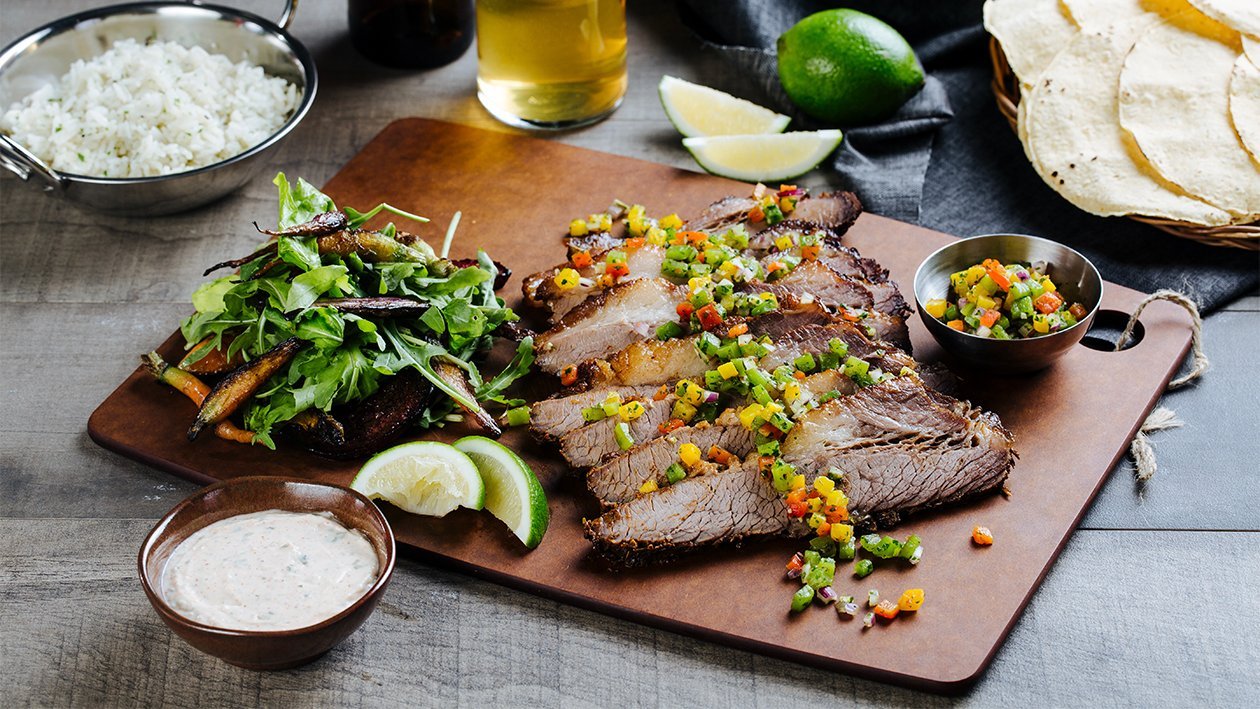 Ingredients
Beef Rub:
Black pepper, crushed

3.0 g

Beef Brisket (can be replaced with boneless beef short ribs)

1.5 kg
Mango Salsa Criolla:
Red tomatoes, seeded and cut small dice

400.0 g

Red onions, small dice

150.0 g

Green bell peppers, charred and peeled

150.0 g

Yellow mangoes, cut into small dice

200.0 g

Jalapenos, small dice (optional)

50.0 g

Cilantro, finely chopped

10.0 g
Chimichurri:
Parsley leaves, cleaned and trimmed

80.0 g

Coriander leaves, cleaned and trimmed

50.0 g

Coriander roots, cleaned

20.0 g

White or cider vinegar

60.0 ml

Red jalapenos or red finger chilies (optional)

2.0 g
Preparation
Beef Rub:

Preheat the oven to 137°Celsius or 280°Fahrenheit.
Combine all the ingredients for the rub.
Trim any excess fat from the beef. Sprinkle the beef with the seasoning mix and rub it all over. (store the remaining spice rub in an airtight container).
Heat the skillet over high heat. Sear the beef on both sides.
Transfer the beef onto a baking pan.
Dilute Knorr Beef Flavoured Powder in 500 ml of hot water and deglaze the pan with it. Bring to a boil.
Pour the liquid over the beef.
Cover the pan with foil. Cook in the oven for 3 hours or when the beef becomes tender.
When the beef is done, let it rest for 8 minutes before slicing. 

Serve with salsa criolla and chimichurri.


Mango Salsa Criolla:

In a medium size non-reactive bowl, combine the tomatoes, onions and bell peppers.
In another bowl, combine the garlic, red wine vinegar, Knorr Aromat Seasoning Powder and olive oil by whisking. Taste and adjust seasoning.
Immediately add the dressing to the diced vegetables. Toss together gently.
Add the chopped cilantro, gently toss, taste and adjust seasoning.

Chimichurri:

Dilute Knorr Lime Seasoning in 10 ml water.
Combine all the ingredients together in a food processor.
Pulse the mixture until it forms a paste (similar to a pesto). 
Taste and adjust seasoning.