Black Eyed Peas are often used in African cuisine and have made their way through the Caribbean and the Southern United States to become a staple food. This American twist to 'beans on toast' is an ode to this journey. The beans are served over toast and topped off with a poached egg. See the full recipe below!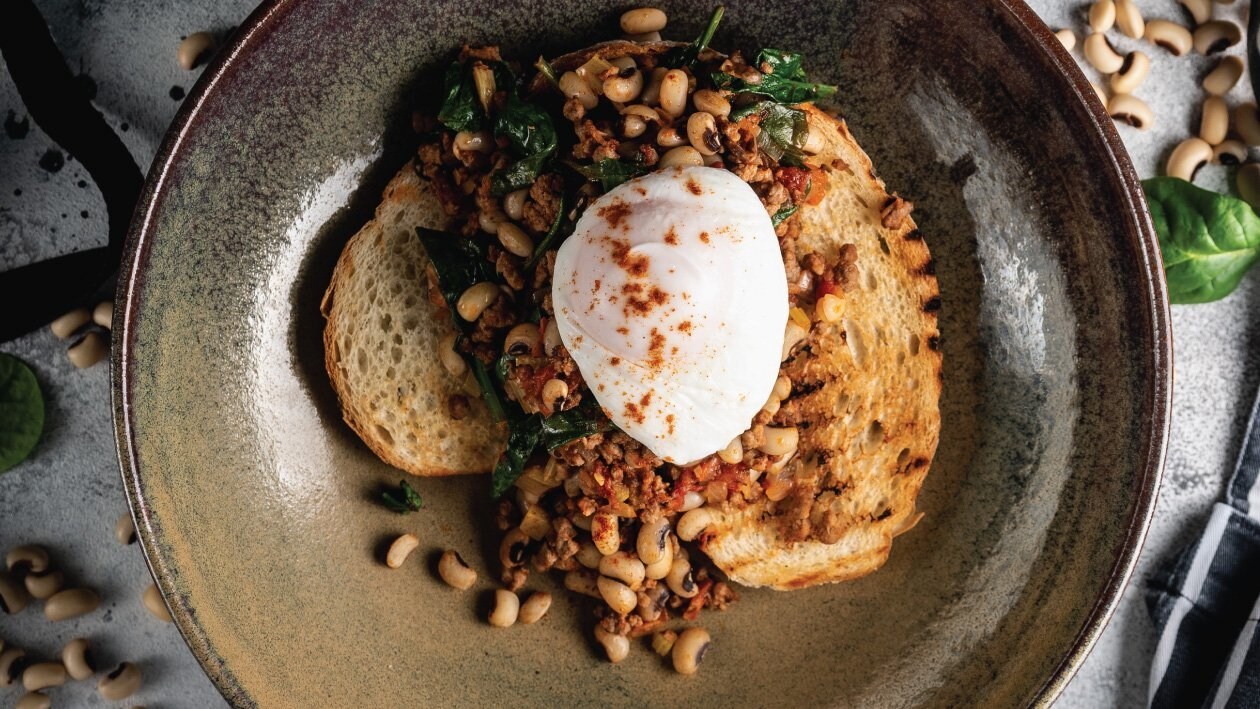 Ingredients
Braised Cow Peas on Toast and Poached Egg:
Beef sausage, spiced, casing removed

400.0 g

Onion, finely chopped

80.0 g

Celery, finely chopped

50.0 g

Red chili, seeds removed, finely chopped

20.0 g

Garlic, finely chopped

10.0 g

Sourdough toasts

10.0 Each
Preparation
Braised Cow Peas on Toast and Poached Egg:

In a heavy bottom pot, add olive oil and the beef sausage and brown over medium-high heat. Render the meat and then remove with a slotted spoon and set aside.
Reduce heat to medium and add onions, celery and chilli, sauté until fragrant. Then add garlic, thyme, smoked paprika and bay leaf.
Increase the heat to high, add black-eyed peas then add water and Knorr Chicken Stock Powder bringing to a boil, then reduce heat to medium-low allowing it to simmer partially covered for 1 hour, occasionally stirring.
After 1 hour, peas should be tender, and liquid almost fully absorbed by the peas. Return the beef back to the pot and add Knorr Tomato Pronto and simmer again for 20 minutes.
Remove bay leaf and thyme stocks and add spinach allowing it to wilt slightly.
Serve over toasted sourdough and top with a poached egg.

Chef's Tip:

To take this over the top, feel free to crumble over some feta or grated cheddar cheese.