Designed for professional chefs, check out this Creamy Chicken & Potato Gnocchi Soup recipe: cooking instructions broken into components, full list of professional ingredients, chefs' preparation secrets. Master this recipe with products like: Knorr Mashed Potato and Knorr Cream of Chicken Soup.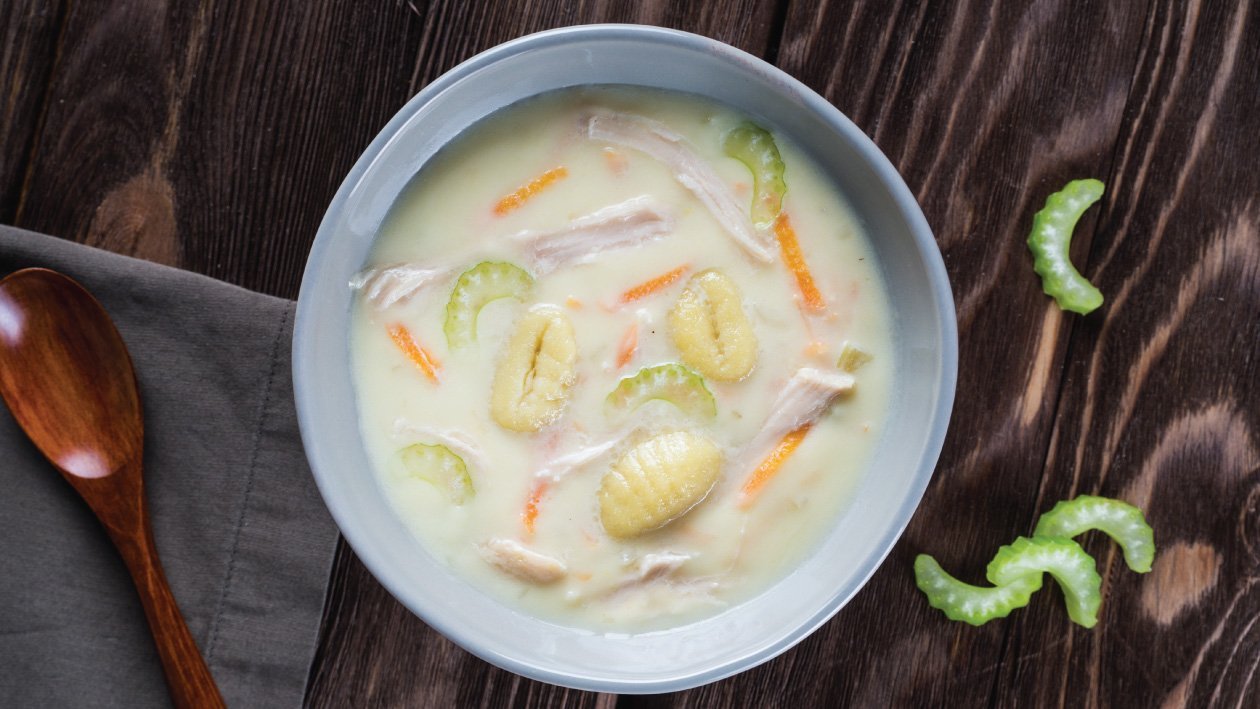 Ingredients
Gnocchi:
Soup:
Garlic cloves, minced

10.0 g

Carrots, julienne

150.0 g

Chicken, roasted, cubed

250.0 g
Preparation
Gnocchi:

Bring the water to a boil, remove from heat and whisk in the Knorr Mashed Potato then rest for 2 min. Whisk it again just to bring together and cool slightly.
Add the flour, cheese and choux pastry to the mashed potato and mix with your hands to make a soft dough, be careful not to overwork, we need it to be light and fluffy.
Dust a work surface with flour and using small batches, roll out the dough into thin logs.
Dust a knife with flour and cut the dough into small pillow shapes.
Place the Gnocchi into a large pot of simmering water, once they float, shock in an ice bath. Drain and set aside.

Soup:

In a large pot, add butter and olive oil. Over medium high heat sauté onion, celery, and garlic until tender.
Add water and Knorr Cream of Chicken Soup, simmer until thickened.
Slowly add cream, thyme, carrots, spinach, chicken and gnocchi. Simmer for about 5 minutes or until the gnocchi is heated through.
Adjust thickness with additional water or cream. Serve hot, topped with grated parmesan cheese.