Designed for professional chefs, check out this Filet Mignon with Garlic Rosemary Sauce recipe: cooking instructions broken into components, full list of professional ingredients, chefs' preparation secrets. Master this recipe with products like: Knorr Beef Stock Powder, Knorr Professional Teriyaki Sauce and Knorr Demi Glace Sauce.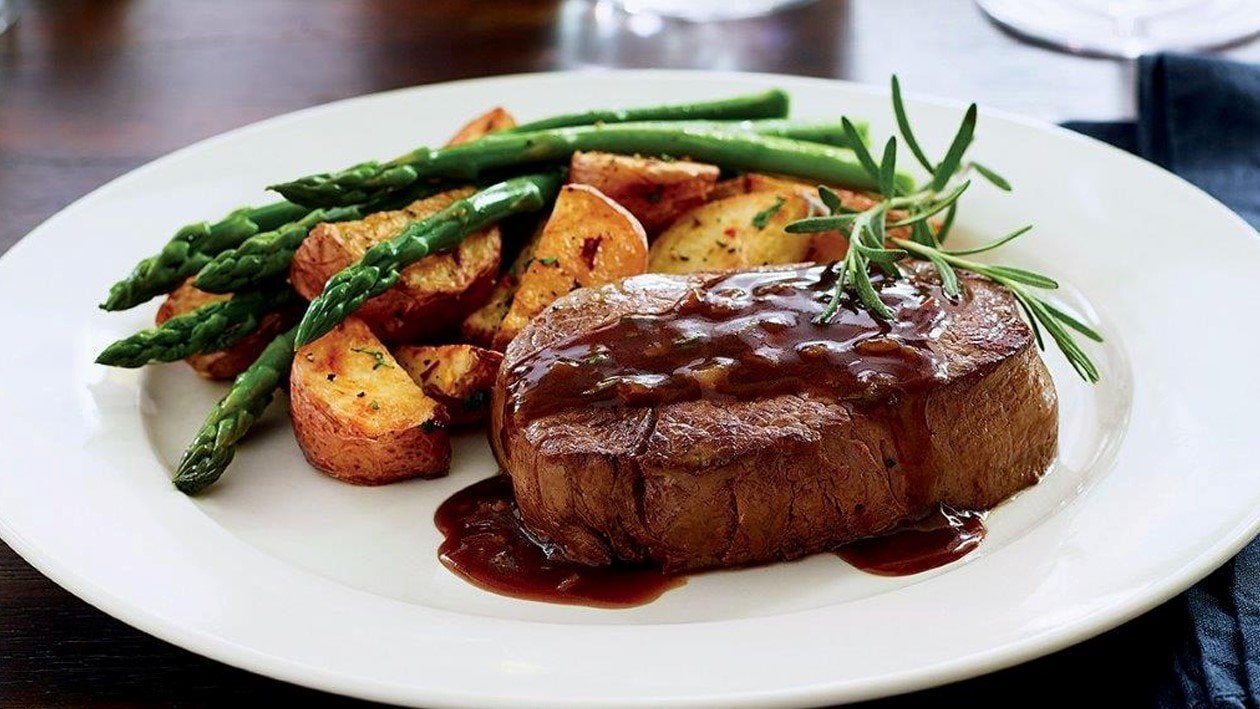 Ingredients
Filet Mignon:
Black pepper, crushed

100.0 g
Caramelized Shallots:
Caramelized Demi Glace Sauce:
Shallots, caramelized

150.0 g

Garlic cloves, minced

30.0 g
Preparation
Filet Mignon:

Clean and prepare fillet. Making 250g portions. Marinate fillet portions with black pepper, rosemary and Knorr Beef Stock Powder.

Caramelized Shallots:

Clean and slice shallots in halve. Sauté with butter on low heat, taking care not to brown the shallots too much.
Once soft and tender deglaze with a little water and add the Knorr Professional Teriyaki Sauce. Simmer gently until sauce reduces and shallots are caramelized.
Keep aside for the sauce.

Caramelized Demi Glace Sauce:

Mix warm water with Knorr Demi Glace Sauce and simmer for 1 minute.
Dice the caramelized shallots and mix into the sauce, add some chopped rosemary and finally add cream and check viscosity.

Cooking the Fillet:

Sear both side of each fillet portion over high heat charcoal grill or heavy cast iron pan, for even cooking, place the fillets in the oven until the desired doneness.
Remove fillets from oven and top off with the blue cheese crust, place them under the salamander to brown.
Serve fillets with the sauce on the side and not poured over the crust.

Presentation:

Serve fillet with roasted potatoes and asparagus.