Designed for professional chefs, check out this Kung Pao Chicken recipe: cooking instructions broken into components, full list of professional ingredients, chefs' preparation secrets. Master this recipe with products like: Knorr Chicken Stock Powder, Knorr Professional Oyster Sauce and Knorr Professional Chicken Stock Powder.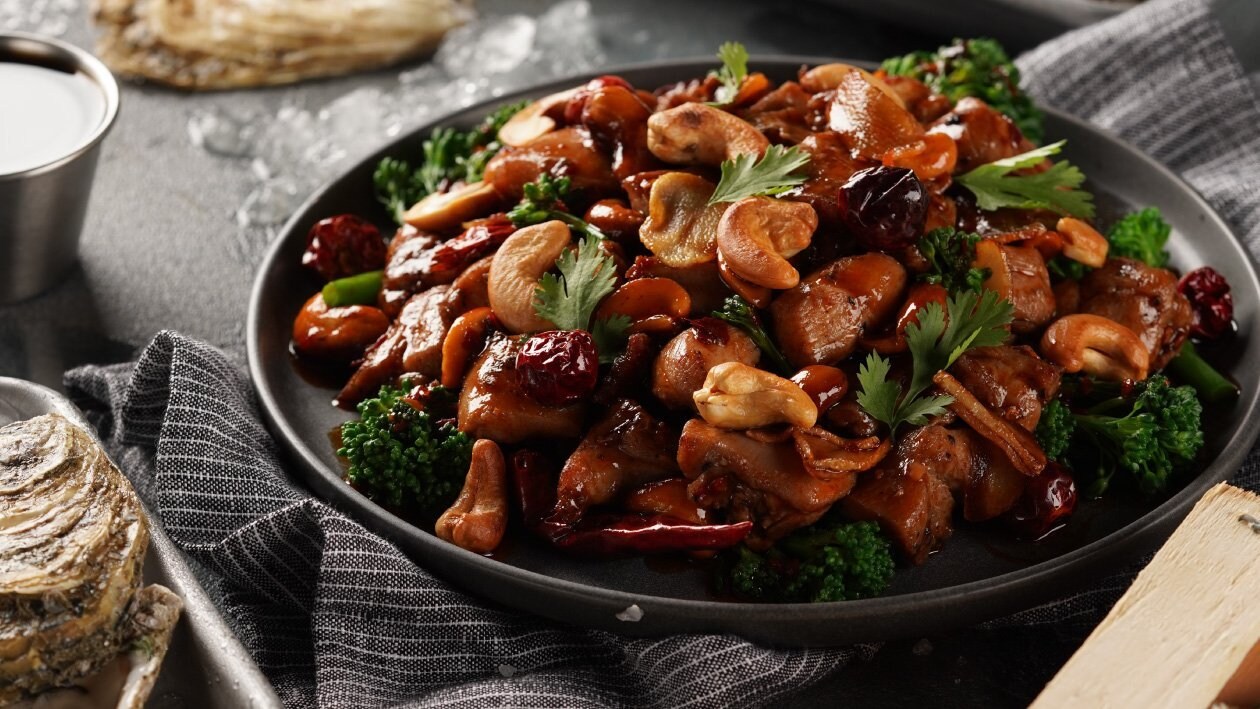 Ingredients
Marinade:
Chicken breast or thigh fillet, large dice

300.0 g

Oil (neutral flavor oil)

3.0 tbsp

Garlic cloves, peeled and crushed

1.0 tbsp

Medium sized onions, diced

0.5 ½ pc

Ginger, peeled and sliced

10.0 g
Sauce:
Mixed Capsicums (green and red), large dice

70.0 g

Spring onions, sliced into 1 inch segments

20.0 g
Garnish:
Cashew Nuts, toasted

20.0 g

Coriander leaves, to garnish

10.0 g
Preparation
Marinade:

Combine the chicken with all the ingredients for the marinade. Let it stand for 5 hours or overnight in the chiller.
Deep-fry the chicken until 75% cooked. Set the chicken over a strainer to remove excess oil.

Sauce:

To make the sauce, combine all the ingredients in a bowl. Taste and adjust seasoning.
Heat a clean wok over high heat.
Add the oil, stir-fry the garlic, chilies, onions, and ginger until fragrant.
Add the pre-cooked chicken.
Pour in the sauce and toss to mix.
Add the capsicums and the spring onions.
Transfer the dish to a serving plate.

Garnish:

Garnish with cashew nuts and coriander leaves.