Designed for professional chefs, check out this Mushroom Biryani Stuffed Chicken recipe: cooking instructions broken into components, full list of professional ingredients, chefs' preparation secrets. Master this recipe with products like: Knorr Chicken Stock Cubes and Knorr Vegetables Stock Powder.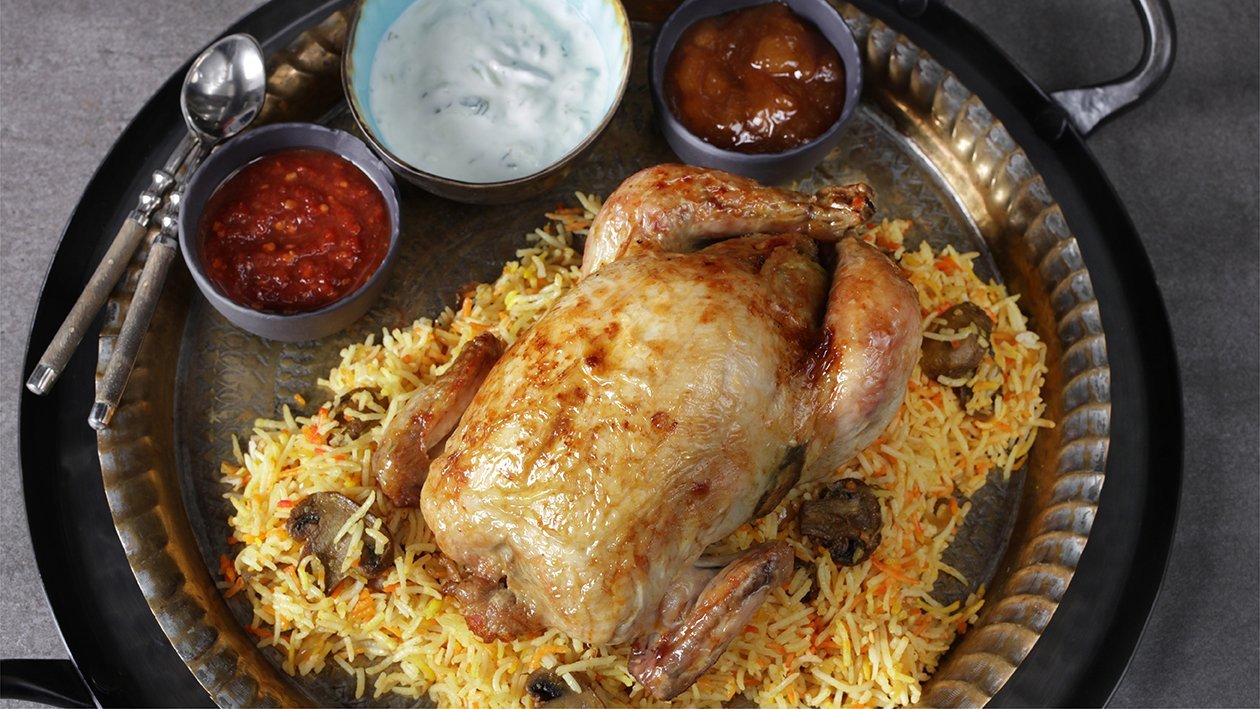 Ingredients
Rice:
Black pepper, whole

2.0 g
Masala:
Black pepper, crushed

5.0 g

Green chillies chopped

10.0 g
Chicken:
Whole Chicken (1000g)

3.0 pc
Preparation
Rice:

Soak the rice for 15 to 20 min. In a medium deep pot, boil the water and add Knorr Chicken Stock Cubes and the whole spice. Now cook the rice partially and drain.

Masala:

Set the oven to 180°C. Slice the mushroom thick and mix well with oil, black pepper, Knorr Vegetables Stock Powder to roast for 25-30 min.
In a medium-thick pot, cook the onions until golden brown, add ginger, garlic, turmeric, all-purpose curry paste, fresh chilli and cook for a minute.
Deglaze pan with water and allow to simmer for 3 minutes.
In the same pot, put roasted mushroom and mix well. Finally, layer the rice with mushroom masala or mix all together.

Chicken:

Only debone the chicken's rib cage area with a pair of scissors, this will allow more flavours of the biryani to penetrate the chicken meat.
Gently stuff the chickens with the mushroom biryani and truss the chicken or simply tie the legs with string so that the stuffing doesn't fall out.
Roast chickens in the oven at 170°C for 40 minutes or until golden brown.
Serve with mango chutney, raita and harissa paste on the side.