Ossobuco Burger with Gremolata Mayo
Designed for professional chefs, check out this Ossobuco Burger with Gremolata Mayo recipe: cooking instructions broken into components, full list of professional ingredients, chefs' preparation secrets. Master this recipe with products like: Hellmann's Gremolata Mayonnaise, Knorr Lime & Aromat Seasoning.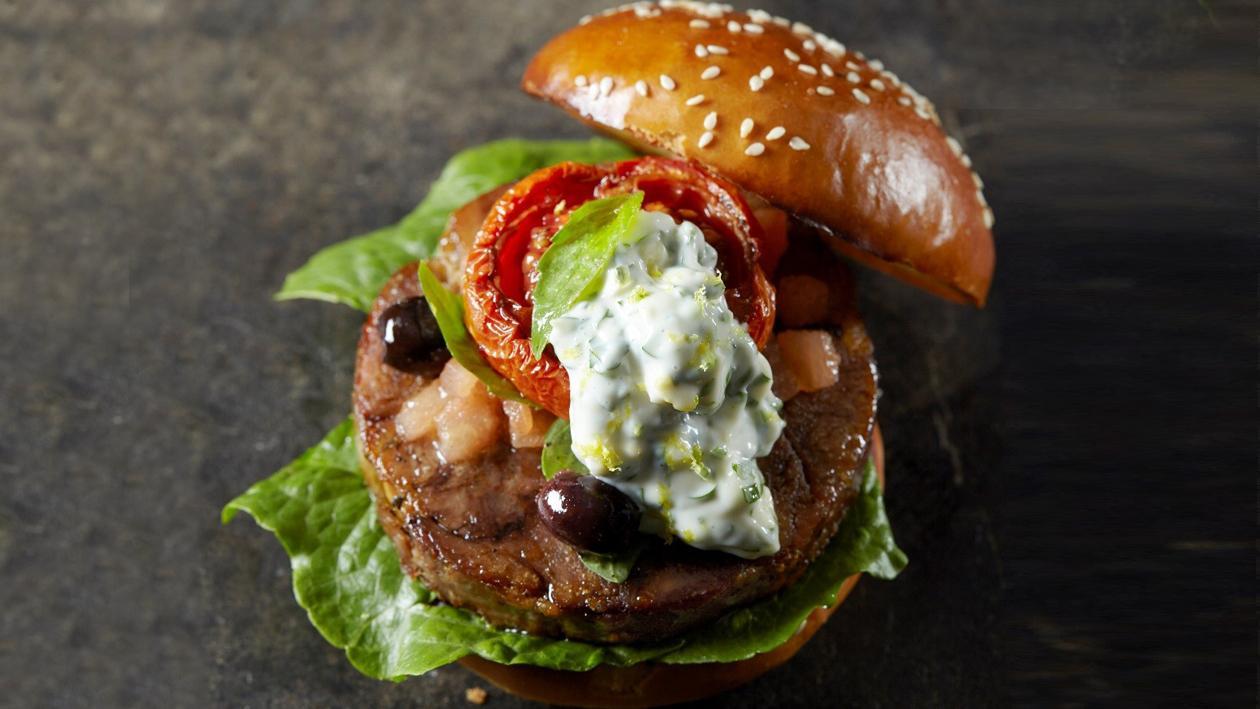 Ingredients
Shallots:
Gremolata Mayo:
Burger:
Plum Tomatoes, Sliced

5 pc

Veal Shank, Slow cooked

1.5 kg
Garnish:
Basil leaves, fresh

100 g
Preparation
Shallots:

Dissolve the sugar in water and vinegar over medium heat, simmer down. Chop the shallots into cubes or brunoise, sauté until transparent and sweet. Add to the sugar vinegar mixture and cook gently until onions are soft.

Gremolata Mayo:

Finely chop garlic & parsley before mixing into Hellmann's Real Mayonnaise and adding Knorr Lime Seasoning.

Burger:

Halve the Roma tomato and drizzle with olive oil and sprinkle with Knorr Aromat Seasoning. Dry in the oven on a low temperature.
Cook the shank meat and press the pulled meat into a round shape whilst the meat is still warm, leave to cool.
Season the burger with salt and pepper and cook the burger on both sides on a high heat until crispy.
Slice the burger bun open and grill cut side down on a skillet.

Assemble the Burger:

Put the burger together with Romaine lettuce and veal shank burger.

Garnish:

Place shallot salsa, black olives, dried tomato, basil leaves, olive oil and finally Hellmann's Gremolata Mayonnaise.

Presentation:

Best serves with potato wedges and Hellmann's Ketchup.