Punjabi Okra Masala
Designed for professional chefs, check out this Punjabi Okra Masala recipe: cooking instructions broken into components, full list of professional ingredients, chefs' preparation secrets. Master this recipe with products like: Knorr Tomato Pronto, Knorr Vegetable Powder and Knorr Professional Chicken Stock Cubes.
Vegetarian Dishes
Main Courses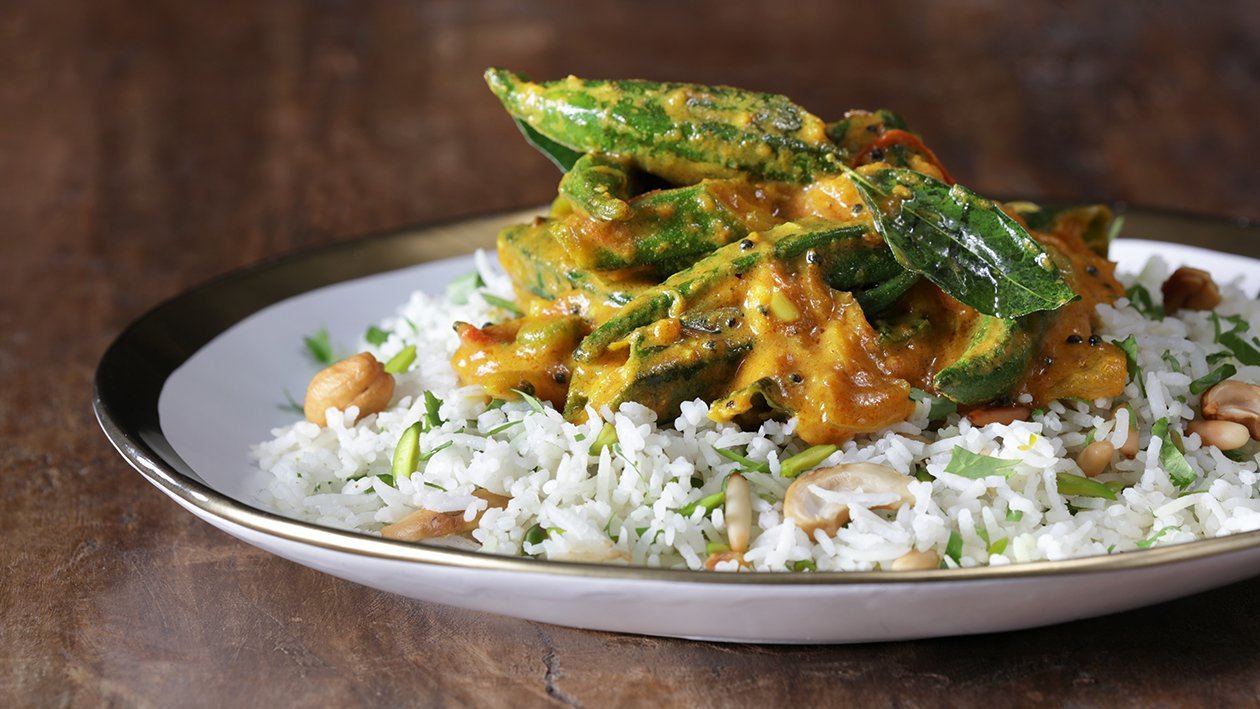 Ingredients
Okra:
Garlic cloves, minced

50.0 g

Garam Masala powder

30.0 g

Kasoori methi (fenugreek leaves)

10.0 g
Tarka:
Chipotle chillies, dried

3.0 pc

Curry leaves stalks

15.0 pc
Rice:
Pistachio nuts, shelled

80.0 g
Preparation
Okra:

Top and tail the okra and cut to your desired size.
Sauté in a wok or frying pan the onions, garlic, ginger, chilli paste, cinnamon and bay leaves.
Add the okra and cook until slightly soft or bright green.
Add turmeric, garam masala and a few minutes after the Knorr Tomato Pronto, cook for a few minutes until curry takes shape.
Add in Knorr Vegetable Powder, dissolved in hot water and continue cooking until okra is tender.
Close to the end, add the Kasoori Methi and yogurt.

Tarka:

Heat the oil and toss spices and chilli to release flavours, use this to pour over the curry, just before serving.

Rice:

Dissolve Knorr Professional Chicken Stock Cubes in hot water before adding to the rice to steam until fluffy.
Only add the nuts after cooking. The nuts should be lightly toasted.