Designed for professional chefs, check out this Risotto "risi e bisi" recipe, by Chef Stefano Ghielmetti: cooking instructions broken into components, full list of professional ingredients, chefs' preparation secrets. Master this recipe with products like: Knorr Vegetable Powder.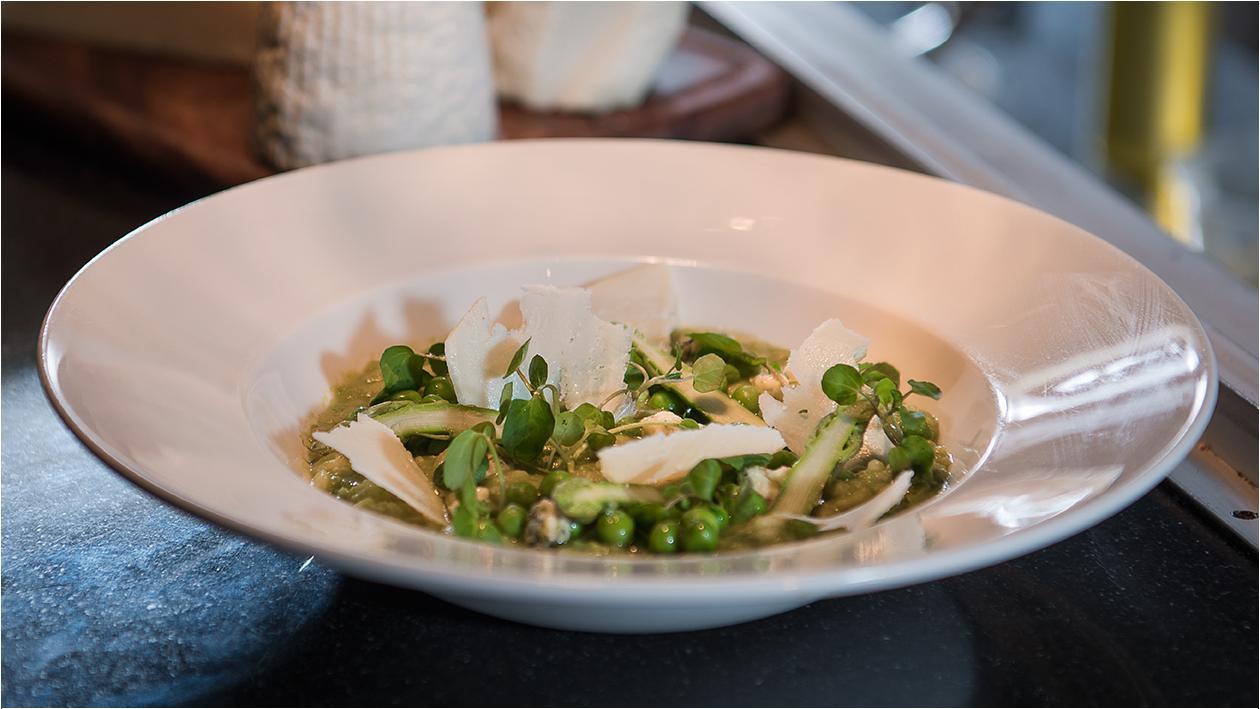 Ingredients
Risotto "risi e bisi" by Chef Stefano Ghielmett:
Italian Risotto Rice

900 g

Asparagus spears, trimmed, cooked

800 g
Preparation
Risotto "risi e bisi" by Chef Stefano Ghielmett:

Cut the baby asparagus and save the tops for decoration.
Start preparing the stock in a pan, and bring it to a boil. Add chopped asparagus and cook for 30 seconds. Set aside.
Add 2/3 of the frozen green peas, mint and parsley leaves. Blitz the stock with the vegetables in a blender until smooth and then pass it through a fine colander (must be a bright green colour). Keep warm and add seasoning, if needed.
In a deep pan, sauté shallots with butter on medium heat until they start to get translucent.
Add the rice and toast until golden brown (5 mins).
Deglaze with white wine and reduce.
Start cooking the rice by adding the vegetable liquid little by little. Keep stirring with a spatula until rice is cooked (15 mins).
Remove from the heat and add the rest of the green peas and mix. Add parmesan, 2 tbsp. of butter and gorgonzola cheese and cover the pan with a lid. Rest for 5 mins.
Remove the lid, mix nicely and add a bit of stock to make sure risotto is creamy and wet.
Plate rice in the middle of the plate.
Garnish with few more peas, asparagus tops, Ricotta Salata shavings and pea shoots and few gorgonzola crumbles.

Garnish:

Garnish with Ricotta shavings, fresh parsley, black pepper and pea shoots.