Smoked Mackerel Potato Cakes with Horseradish Cream
An ultimate snack option refined further! Mackerel is one of the highly recommended oily fish for a healthy diet. It is also full of flavour and perfect for potato cakes. Pair the cakes with green vegetables, crème fraiche, smoky paprika and voila! Tip: Use Knorr Mash Potatoes for faster and easier preparation of the recipe, without losing any taste.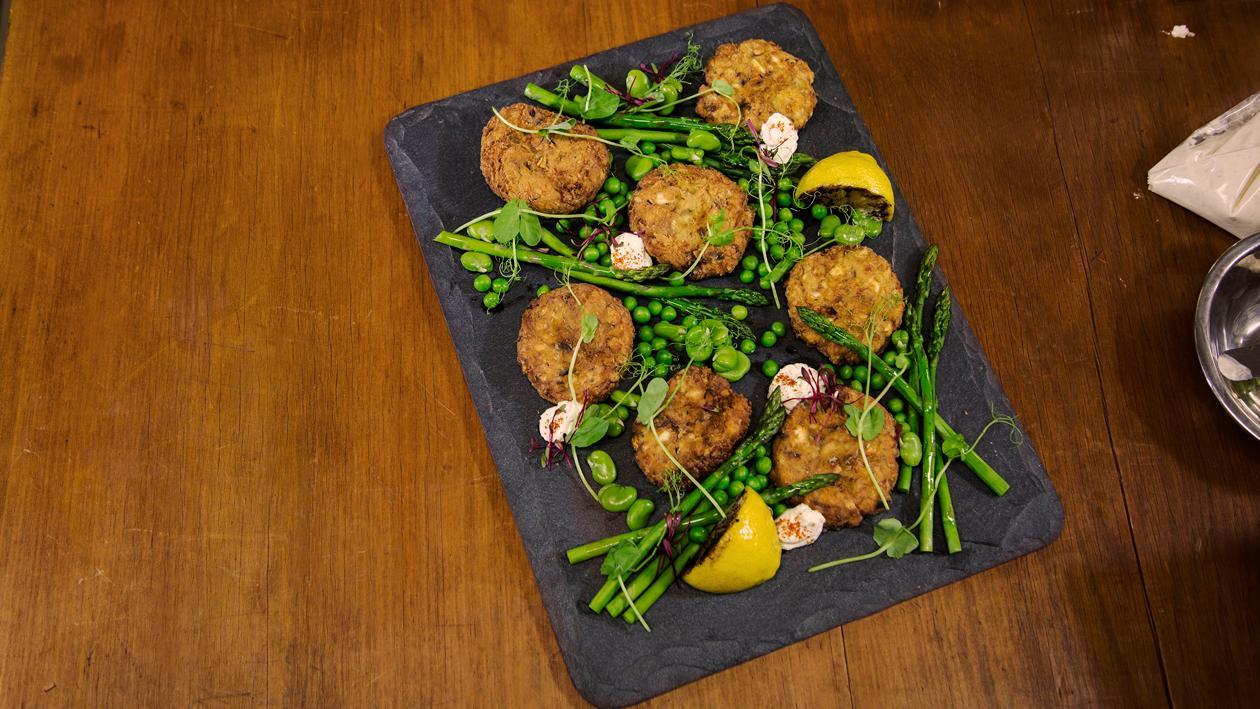 Ingredients
Preparing Potato Cakes:
Parsley, finely chopped

50 g

Mackerel, skinless, boneless, smoked

225 g
Plating and Serving:
Broad beans, shelled, cooked

100 g

Asparagus spears, trimmed, cooked

100 g

Lemons, halved, grilled

2 pc
Preparation
Preparing Potato Cakes:

Place water in a saucepan and bring to boil. Remove from heat and whisk in the Knorr Mashed Potato. Place in a bowl and refrigerate until cold.
Cut the eggs in half, remove the yolks and finely dice the egg whites. Mash the yolks.
Combine the mashed potatoes, egg yolks, diced egg whites, parsley with 50g of Horseradish and Knorr Vegetable Bouillon Powder. Stir well.
Flake the mackerel into large chunks and add to the potato mixture with the flour and egg. Stir gently until all the ingredients are well mixed. Do not over mix or the fish will turn to a mush. Refrigerate mixture for about 20 minutes. Cook in a deep fryer for about 3-5 minutes, or until lightly browned and middle is cooked through.

Plating and Serving:

Combine crème fraiche with remaining 30g of horseradish and Colman's Dijon Mustard.
To serve, place fish cakes on a serving platter with the broad beans, asparagus, pea tendrils and grilled lemon. Dollop with horseradish, crème fraiche sprinkled with smoked paprika and scatter with micro herbs.