Spiced Chickpea & Tomato Soup
Designed for professional chefs, check out this Spiced Chickpea & Tomato Soup recipe: cooking instructions broken into components, full list of professional ingredients, chefs' preparation secrets. Master this recipe with products like: Knorr Professional Vegetable Bouillon Powder and Knorr Professional Tomato Powder.
Vegetarian Dishes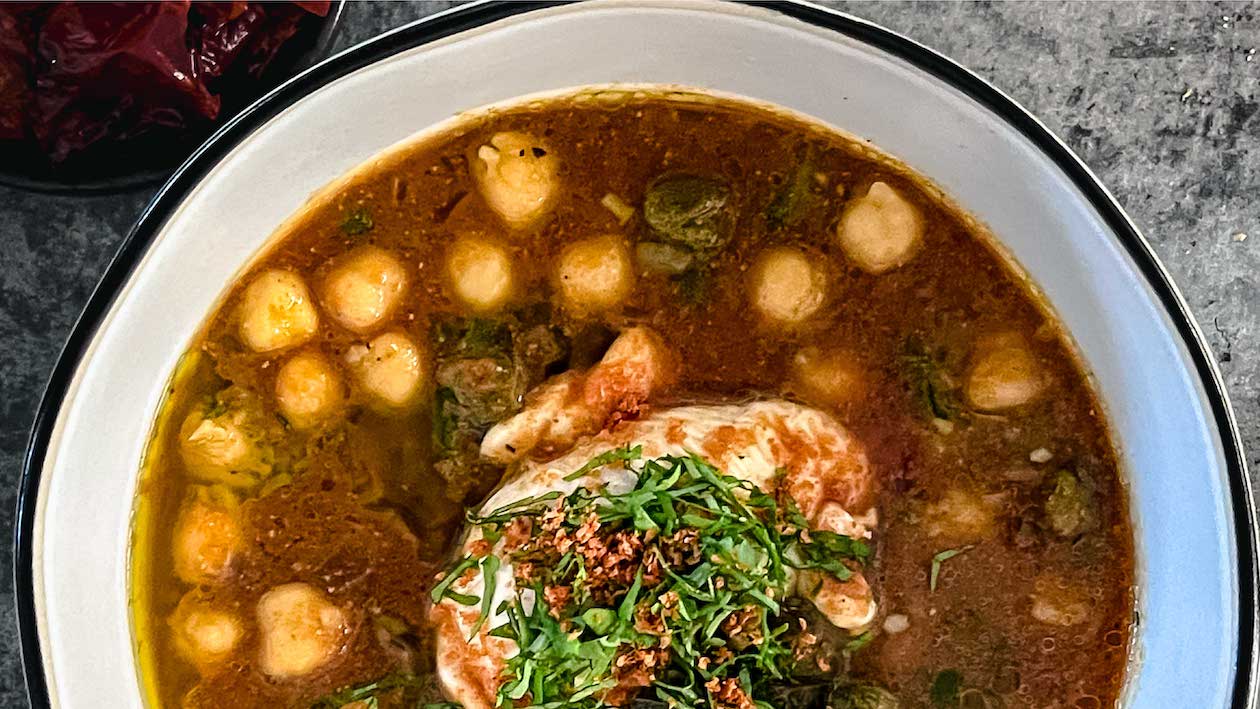 Ingredients
Spiced Chickpea & Tomato Soup:
Liquid from the canned chickpeas

200.0 ml

Garam Masala, lightly toasted

30.0 g

Cumin, lightly toasted

15.0 g

Coriander powder, lightly toasted

10.0 g

Red onions, minced

150.0 g

Green capsicum, seeded, brunoise

200.0 g

Canned chickpeas, drained

780.0 g
Serving:
Pitted Olives, chopped (optional)

50.0 g

Coriander leaves, chiffonade

20.0 g
Preparation
Spiced Chickpea & Tomato Soup:

To make the broth, place a sauce pot over high heat and combine all the ingredients together. Whisk to incorporate all the ingredients together. Bring down to a simmer, taste and adjust seasoning.
In a large sauté pan, heat olive oil over medium heat. Sweat onions, garlic and capsicums.
Add the canned chickpeas and cumin powder. Season with salt and pepper to taste.

Serving:

Divide the chickpeas into 10 serving bowls. Top with a poached egg.
Pour in the desired quantity of broth. Add fried capers or olives.
Serve with lemon wedge on the side.

Chef's Tip:

For service or delivery, arrange the components of the soup in a bowl separate from the soup to let the customer pour in the broth themselves.